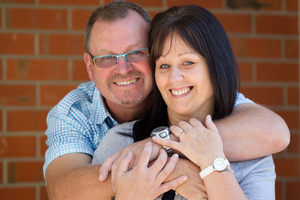 When Angela Hudson walked into former schoolfriend Stuart Blower's arms at Auckland Airport, it was love at first smell.
The former British high school friends had not seen each other for 30 years but Ms Hudson knew Mr Blower was "the one" as soon as they touched.
"My friends always say to me what was the nice thing about him and I said, 'He smelt really good'. [He's] just got this big beaming smile and when he put his arms around me, the smell, that was it, I'd fallen for him."
What followed was a two-week whirlwind romance before Ms Hudson went back to the UK, packed up her life and moved to the other side of the world to be with her soulmate.
Now the couple are planning a Valentine's Day wedding next year.
As 14-year-olds, the pair were in the same circle of friends at a Wolver-hampton secondary school in 1980.
Ms Hudson went on to marry and have two sons, now aged 25 and 22. Mr Blower emigrated to New Zealand in 1998.
Nothing eventuated after a brief exchange on the Friends Reunited website seven years ago but when Ms Hudson divorced her husband, she sent Mr Blower a friend request on Facebook in 2010 and the pair began messaging each other.
Mr Blower, 47, plucked up the courage to ask for a phone conversation and the couple talked for six hours.
Three phone calls later, the ADT Security Systems electronics engineer suggested Ms Hudson visit him in New Zealand, and five months later, after much more talking on the phone and over Facebook, the pair came face to face.
But lurking on both their minds was the thought of what would happen at the end of the holiday.
"There was that spark there but obviously you had to wait and see," Ms Hudson said. "I could have met him and thought, 'Oh God, no, he's ugly. Not going there.' He could have thought the same about me.
"I came with the attitude of let's wait and see. But the first evening back at his house, he cooked dinner and there and then he said, 'I've fallen in love with you already'."
So strong was their connection, the couple visited an immigration consultant, who advised Ms Hudson to apply for a work visa.
The 46-year-old went back to Wolverhampton and spent the next 11 weeks packing and selling up, quitting her job and saying goodbye to family and friends.
"I thought to myself, 'Am I doing the right thing?' One of my friends said to me, 'Look, if you go and it doesn't work out, you just come back. No one will think any less of you'."
She arrived back in time for Christmas 2010 and hasn't looked back. She's now a store manager at Suzanne Grae fashion store at Sylvia Park.
Last July, Mr Blower proposed. Together they chose a white gold solitaire diamond ring and in February next year, they will tie the knot in front of family and friends at the Pacific Rendezvous at Tutukaka, near Whangarei.
"I have to pinch myself quite often," Ms Hudson said. "It's difficult to imagine meeting someone the way we did and then always feeling like we've been together. We just enjoy every minute of it."