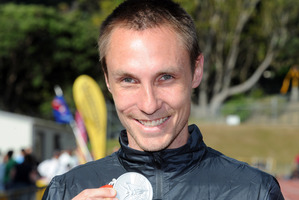 These "social media" Olympics have been a revelation so far. There have been several revelations, in fact, and few would have been possible without Twitter.
Kiwi flagbearer and middle-distance runner Nick Willis (@nickwillis) has used it to reveal his Games experience, tweeting not only on his brief meeting with the Queen, but the colourful titbits that we'd otherwise never hear of.
He has spoken of falling asleep to the sound of gentle rain falling on a roof that pre-dates the United States of America, and of how he almost led New Zealand into the Olympic stadium for the opening ceremony with an open fly.
Team Great Britain's athletes have showered their Twitter followers with gushy praise during post-event interviews, with swimming bronze medallist Rebecca Adlington (@BeckAdlington) crediting the Olympics for boosting her follower count by 30,000 so far.
The athletes have been so effusive in their thanks that I've wondered if there's a Team GB directive to thank their Twitter supporters whenever possible.
After all, not many Olympic Village bases boast an official hashtag plastered across the balcony, but Britain's does: #OurGreatestTeam.
If there is a standing rule, it isn't necessary. The Brits have jumped into the interaction with gusto, for better and for worse.
Tom Daley (@TomDaley1994) is Britain's poster boy of Olympic diving; a popular young athlete blessed with great looks, but cursed with the weight of expectation.
British hearts broke when he and partner Peter Waterfield narrowly missed a synchronised diving bronze.
It didn't take long for a Twitter troll to poke his head out from under the bridge. Daley might have ignored him if not for a cruel jibe about how he failed his father, who died last year after a battle with cancer.
Daley fought back, calling his critic an idiot and then lending his support to a petition to have him removed from Twitter.
His teammate, who is talked about far less despite having won Olympic and Commonwealth Games medals, stayed away from the argument until the early hours of the morning.
Waterfield (@PeterWaterfield) called Daley's troll a "low-life prick". Then he claimed responsibility for the duo's failure to earn a medal.
"Tom done great, it was my fault."
The "troll" has been arrested in Dorset following a series of vitriolic tweets. It is a sad outcome that could have been avoided so easily.
Episodes like these don't feel very Olympian to me. While they have every right to defend themselves, is it worth it for athletes to supply these attention-seekers with the oxygen they crave?
TWEET OF DAY
"Right! I'm taking up horse riding after #Rio2016. This looks awesome." @nickwillis