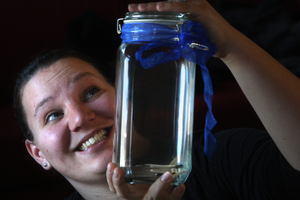 George the friendly community ghost has raised $300 for Rotorua Plunket - but he's not leaving town just yet.
An Auckland man, who did not want to be named, made the winning $205 bid 30 minutes before the Trade Me auction closed on Saturday.
He has since made a donation of $300, saying Plunket had done a great job for many families including his own.
Rotorua Plunket committee member Caraline Abbott said she was delighted with the auction, which had more than 10,000 views after it received national media coverage and was featured as a 'cool auction' by Trade Me.
"The main thing was it raised awareness of all the services we offer," she said.
The money from the sale of the make-believe ghost will go towards keeping Plunket services such as playgroups free and the upkeep of the Pukuatua St clinic.
Mrs Abbott has sold invisible companions before - at university in England she sold her invisible best friend for 50 pounds ($100).
"Even a little bit is quite hard for us to achieve so that's why we thought of the ghost - we're not having to invest anything in it and hopefully we stand to get a bit out of it."
For more articles from this region, go to Rotorua Daily Post