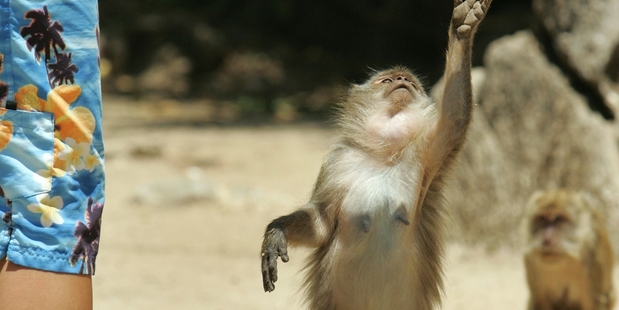 They're cute, but those monkeys could really ruin your holiday.
Southern Cross Travel Insurance (SCTI) say their customers have had a wide variety of incidents involving wild and domestic animals in the past 12 months.
"We've had people claim for medical treatment after being stung by a jellyfish or poisonous fish when snorkelling, through to claims for property that's been chewed up by puppies in the home of someone the insured is staying with," SCTI chief executive Craig Morrison said.
A fisherman had his rod taken by a seal and a photographer had his camera chewed by a leopard in Africa.
Mr Morrison said animal bites, particularly from dogs and monkeys, made up a large number of claims requiring medical treatment. World Health Organisation figures say dogs account for 76-94 per cent of animal bite injuries, followed by monkeys.
One unlucky Southern Cross customer was actually bitten by a monkey and a stray dog on the same trip.
"I recently read in the Bangkok Post that one local hospital at a Thai beach resort treated around 600 people for monkey bites in the last year - 75 per cent of them foreigners. I get that they're cute, but you have to remember that they're wild animals with very, very sharp teeth," Mr Morrison said.
Monkeys are also often thieves, with sunglasses and wallets common targets in places with large monkey populations, such as the Batu Caves in Malaysia or the Monkey Forest in Bali.