Emily Gibson discovers the gruesome displays on offer at Bangkok's Siriraj Medical Museum - the Museum of Death.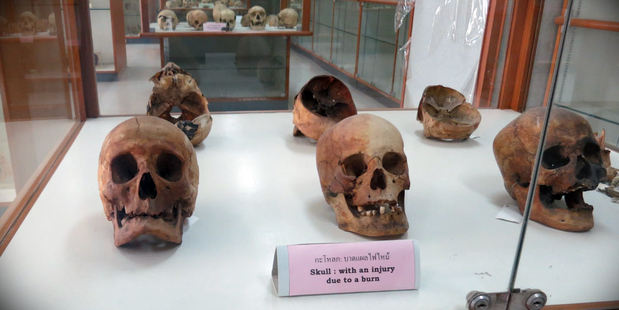 There are certain things everybody does when they go to Bangkok. They're the same things the tourist operators and the tour descriptions tell you are the things you should see: The Grand Palace, Siam's shopping malls, Chinatown, and so on.
To be sure, those things all have merits. The Palace is impressive. There's some fantastic shopping to be had in Siam. And Chinatown is a gourmet's delight, no matter how few pennies you have rattling around your travel-worn pockets.
But what if you have a bit more time up your sleeve, you've been to Bangkok before and done those things already - or you simply want to delve a bit deeper? Find that one gem of an attraction that still hasn't hit the mainstream and maybe never will?
Then Siriraj Medical Museum may be the one for you. Unless of course you're even remotely squeamish about such things as physical deformities and death - because that's what this somewhat bizarre collection of public exhibits is hinged on.
And it's not pretty, by any stretch of the imagination.
Nicknamed the Museum of Death, this unlikely tourist destination is housed in Siriraj hospital, and it is slowly gaining the attention of Western tourists thanks to the travel review website Tripadvisor, on which it is currently listed as number 9 of 175 "attractions in Bangkok".
The permanent exhibits are divided into seven sections: Anatomy, Congenital Disorders, Pathology, Forensic Pathology, Thai Traditional Medicine, Toxicology, and Parasitology. It's a fairly large museum in terms of how many exhibits it houses, with the exhibits themselves - all real, no mimicry - ranging from bullet-ravaged skulls and severed arms to photos of car crash victims and parasite-ridden bottoms.
According to the official website: During her nearly 120 years as a pioneer in modern medicine not only in Thailand but also Southeast Asia, Siriraj hospital has collectively gathered an enormous compilation of medical equipments and tools, anatomical and clinical specimens including important artifacts and archives relating to the history of medicine in Thailand.
Notable "specimens" include a range of small babies who died from various fatal abnormalities, a cleanly spliced human brains; photos of human bodies ravaged by disasters such as murder, falling from a great height or being hit by a train; and the mummified remains of convicted criminals, which are stood upright in display cases that look like phone boxes. (You can google the name of the museum for images, but be warned: they're graphic.)
The main attraction - or what is supposed to be the main attraction - is one of these criminals: the infamous Si Quey. In the late 50s, Si Quey murdered and then consumed the hearts and livers of six children. He was originally put on display as a deterrent against violent crime.
One thing you might notice about the exhibits is a lack of ceremony, especially where the babies - frozen in time for curious eyes - are concerned. These specimens are, at times, plonked into wooden benches in what can feel like a rather ad hoc way, and this can be confronting. However, this is potentially countered by the small inscriptions - impossible to tell as they weren't translated into English.
But despite its somewhat casual approach to gravely serious themes - perhaps a cultural (mis)interpretation on my part more than anything else - Siriraj Medical Museum is a fascinating and truly unique place that's well worth visiting.
At least once, hurriedly, before you escape back out into the real world and breath a sigh of befuddled relief.
The Siriraj Medical Museum is located at Siriraj Hospital, near the Temple of the Emerald Buddha (Wat Phra Kaew). A map can be found here. It's open from 9am to 4pm, Monday to Saturday, and costs 40 Baht (less than NZ $2) per person for entrance to all six museums.
- nzherald.co.nz