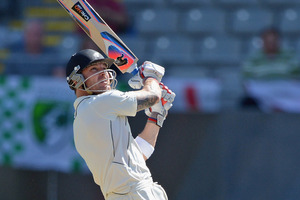 The sideshow to the main event has ended, leaving omelette-faced ex-international John Parker in retreat mode as he tries to salvage his band of rebels he calls The Group.
Parker today issued a "sincere apology" to Brendon McCullum for a potentially defamatory 77-point document known in infamy as "The Taylor Affair". Really, he should be apologising to this country's long-suffering cricket fans for driving a wedge through the sport - and potentially the national team -when a vibrant and enthralling England tour had started to heal a game that had been riven by poor results and mismanagement.
In December, the Herald embarked on a week-long series of cricket articles under the banner, 'The Shame Game'.
During the series we highlighted several of the sport's failings and concluded that New Zealand Cricket needed fundamental change, particularly at board level where we felt the game's governors had been caught asleep at the wheel.
It seemed a good idea to have more high-level cricket expertise on the board, but the discrediting of Parker and his inchoate band of renegades - most of whom displayed the clean heels of Usain Bolt when distancing themselves from The Group at the threat of legal action - has hurt his movement for change.
Are the sort of people who spit out documents based on innuendo, half-truths and mistruths the sort of people we want running sport? Easy answer: No. The game has endured enough nastiness lately.
Parker, and by extension The Group, has come across as mean-spirited and manipulative, prepared to use a clearly hurting Ross Taylor as a pawn in their endgame. Parker identified friendly faces in the media and used them to push a tired message. Any noble intentions dissolved in those 77 badly written, poorly fact-checked points.
New Zealand cricket needs fresh thinking; it needs to better use the accrued wisdom of those heroes of the 1980s who clearly feel disenfranchised from their sport. It doesn't need petty squabbles played out in public.
It needs skilled people who recognise that cricket's environment is evolving so quickly and so profoundly that New Zealand needs to run just to stand still, it needs to sprint to catch-up.
It's time to look forward now, not keep getting dragged down by the past.
It is time for The Group, if it actually exists, to regroup.