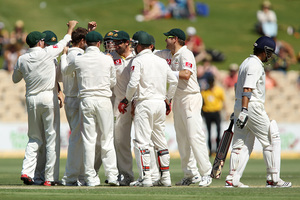 The heavy rollers of the cricket turf management world have agreed not to "doctor" test pitches to suit home sides too much.
Seventeen experts, including International Cricket Council bosses, and representatives from the 10 test nations and five associate members, held a two-day workshop in Dubai.
A pressing topic was how far countries could go towards creating home advantage - after Indian accusations that Australian ground staff created overly green wickets last summer to cater for the hosts' superior pace bowling.
New Zealand Cricket was represented at the workshop by grounds and facilities manager Ian McKendry. He says a compromise was reached on what are acceptable ICC pitch standards.
"The consensus was that pitches in different climates still need to retain their uniqueness. It is a subjective business but pitches can't be blatantly doctored for a home team either."
Test pitches were the main focus. McKendry says they're aiming to meet certain benchmarks to maintain international consistency and avoid accusations of bias.
"The aim is to get an average of 30 runs per wicket. That way, there is something in the pitch for the batsman and the bowler. The last thing the ICC or national bodies want is for tests to be over inside three days or for an easy 350 runs to be chased down on the final day.
"There needs to be a balance; like the tantalising prospect in Dunedin this summer when Ross Taylor and Brendon McCullum were poised to chase down a gettable total [they needed 264 runs with eight wickets in hand to reach the target of 401] on the final day against South Africa before it was washed out.
"In tests, we want pitches that support good contests, not batting paradises. That means good pace, bounce, carry, initial seam movement and even grass cover, but with a tendency to take turn on days four and five.
"Variable bounce is also acceptable towards the end of a test. It's a good thing if pitches are not too dull or lifeless. That's vital in the longer form to keep people interested."
In contrast, McKendry warns bowlers not to expect sympathy across the world in the shorter forms: "Twenty20 cricket remains all about batsmen hitting sixes and fours, while seam movement still has to remain minimal in one-day matches. The return to using a ball from either end during the 50 overs has helped balance that situation for bowlers."
McKendry says the efforts of New Zealand groundsmen stacked up well against their counterparts: "I would say they're leading the cricketing world on innovation and versatility, especially when it comes to multi-purpose stadiums. Most other parts of the world, like Britain, the West Indies, Africa and the subcontinent, tend to work with cricket-specific grounds. There's the odd exception, like Melbourne's MCG, but Aussie Rules has a separate season whereas, in New Zealand, cricket and rugby often overlap."