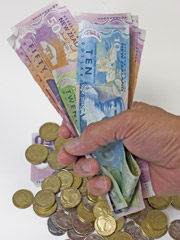 Kiwibank is increasing its fixed mortgage rates for the second time this month.
The move comes after BNZ announced hikes in its fixed mortgage rates yesterday. Last week ASB and ANZ National moved fixed mortgage rates higher.
Kiwibank is leaving its variable rate unchanged at 5.79 per cent but is increasing a range of rates for fixed term mortgages. It also announced a range of rises to fixed rates on October 9.
The latest move is a 36 basis point increase in the one-year rate to 5.95 per cent, while the five-year rate moves to 8.69 per cent.
The two-year rate moves to 6.95 per cent, the three-year rate rises to 7.79 per cent and the four-year rate rises to 8.49 per cent.
The Reserve Bank of New Zealand (RBNZ) is expected to hold the official cash rate unchanged at a review next Thursday but wholesale money markets are reflecting an expectation that rates will increase earlier than previously thought.
AMP Capital Investors said yesterday that it expected the official cash rate to rise next March.
The Reserve Bank of Australia has already hiked its official rate once and is expected to keep raising to more normal levels.
Official interest rates were slashed to historic lows around the world to stimulate economies when the global economic crisis was unfolding.
"The market has moved to price in earlier and more aggressive rate hikes from the RBNZ, with close to a 40 per cent chance of a 25 basis point hike in December," ANZ said in a commentary yesterday.
Rates in the wholesale money market indicate that interest rates could rise a full 2 per cent, or 200 basis points, in the next 12 months, ANZ said.
"Current swap yields have implicitly priced in an early and aggressive tightening cycle from the RBNZ," ANZ said.
CURRENT 1-YEAR MORTGAGE RATES - COMPARISONS
%
ASB 6.00
BNZ 5.99
National 5.99
Westpac 5.99
ANZ 5.95
Kiwibank 5.95
TSB Bank 5.90

- NZPA