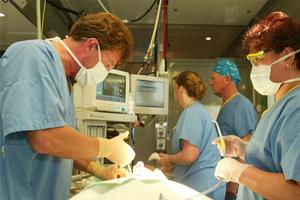 Increasing use of the private sector is driving costs up and putting pressure on healthcare premiums, according to the country's biggest health insurer, Southern Cross Healthcare.
Claims for some of its most common procedures have significantly increased during the past two years, according to figures released yesterday.
The cost of claims has jumped 10 per cent for the year ending last December.
This follows an 8 per cent rise the previous year.
Southern Cross chief executive Dr Ian McPherson said the relentless demand, coupled with higher healthcare costs, was putting enormous pressure on the group's premiums.
He said premiums could rise or access to some of the most common medical procedures could be reduced.
"Southern Cross is paying 96 cents in claims to members for every dollar they pay in premiums," he said.
"With healthy reserves we are able to absorb this cost and budget for a deficit in the current financial year."
Dr McPherson said that kind of deficit was not sustainable.
Southern Cross was looking at ways to address the problem, including strengthening its affiliated provider networks.
The not-for-profit insurer covers more than 840,000 members in New Zealand.
Some high-volume procedures, such as colonoscopies and cataract extractions, may be moved to be covered by an affiliated provider only.
Dr Ian McPherson said some alternatives included reducing access to these services or putting premiums up.
"We believe these would prove to be less palatable options for members and healthcare providers in the long run."
- NZPA