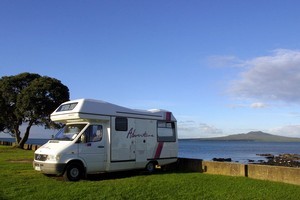 Next time you see one of those elderly British couples holding you up in traffic with their oversize campervan don't honk - not in anger anyway.
For they, and their ilk, represent one of New Zealand's most successful export industries of the last five years. Since the introduction of the Qualifying Recognised Overseas Pension Scheme (QROPS) system by the UK tax department in 2006, many millions of pounds have been swapped for NZ dollars by UK residents allegedly looking to end their years on our shores.
It's impossible to get any good local statistics on how much UK pension money has shifted to NZ under the QROPS regime but my rough estimate is close to $1 billion.
According to this article culled from International Adviser (I've never heard of it either), about £1.5 billion of UK pension money has transferred to offshore schemes since the launch of QROPS.
Of that about a quarter has flowed to New Zealand, these figures published last September reveal.
On current exchange rates that would equate to $725 million but the pound has been considerably stronger than that in aggregate over the last five years - so I'm sticking with my billion or so.
Regardless of the exact amount, QROPS has been a big money-business for New Zealand and the agents that have facilitated the transfers, some of whom clip off a whopping 5 per cent of the amount transferred from the UK.
As this article points out, the QROPS market has barely been tapped, touting a potential UK pension transfer amount of £575 billion - now if New Zealand could get 25 per cent of that...
Unfortunately, these dreams have been put on hold by new regulations proposed by Her Majesty's Revenue and Customs (HMRC) department that will tighten the QROPS market.
The QROPS regime was intended to allow UK emigrants to shift their pensions to complying offshore providers on the assumption they would have access to their (tax-advantaged) retirement funds under similar terms as they would have had at home.
However, some jurisdictions interpreted the QROPS rules rather loosely, using the scheme as a ruse for UK residents to collect their tax-free pensions early.
As Geraint Davies, managing director of Montfort International, told Financial Times Adviser: "Some schemes, particularly in New Zealand, were clearly dubious and had a flagrant attitude. HMRC have reviewed these schemes and know where and what to look for."
The new rules, explained here, will effectively close the NZ QROPS loophole, limiting UK transfers to mainly KiwiSaver accounts.
Industry participants, including NZ firms that play the QROPS game, have until the end of January to submit on the HMRC proposals that are due to take effect on April 6.
Some advisers have already warned UK residents off NZ QROPS.
Other, more entrepreneurial types, have recognised a short-term marketing opportunity. Campervan sales may also dip post April 6.