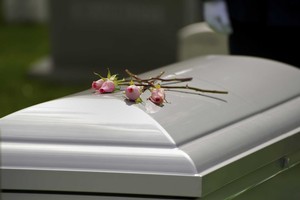 Rest assured, when shopping for coffins you will never be asked 'are you happy just browsing?'.
'I'll just leave you to it, take your time,' the salesman slinks off.
There's a windowless room with the merchandise stacked on shelves. Price-tags (detailing with and without GST options) sit discreetly on the caskets - this is clearly a shop but it offers a bizarre retail experience.
And, it seemed to me, a most unfair one. There's no escape, no chance to look on TradeMe for second-hand bargains or to pop down to the 30-month interest-free, no-money-down MASSIVE casket sale at Harvey Normans, you can't haggle (how much for cash?).
The black shiny one is nice - bit depressing maybe. What about the lacquered lavender? Beautiful inlay work on that. The Eco-friendly model looks interesting but does brown cardboard really cost that much?
It's difficult to say what coffin selection criteria are appropriate - there are no customer satisfaction surveys that I know of - but price would have to matter for most people.
But at a time like this any talk of money seems to be frowned upon.
I asked him anyway: 'Can you give me some kind of indicative costs for the funeral?'
'Well, there's a number of factors to consider - I'll send you something later,' he fobbed me off.
That will be the invoice. God knows what the final bill will be, although a 2009 Consumer article provides some warning.
Ian Cowie, writing in the Daily Telegraph this week, has some more up-to-date information, admittedly from a UK perspective but the costs are probably comparable.
Death is necessarily cloaked in mystery but, as rebel undertaker Carl Marlow, told this UK website, the funeral business doesn't have to be.
"I think funerals are a con," Marlow says in the article.
"Too many people in an emotional frame of mind are paying too much money and there's no need for it to be so expensive. It feels like a bit of a closed shop..."
Marlow wants an open shop, coffins as seen on TV.
"We're not trying to be controversial," he says. "We're trying to make coffins more of an everyday purchase and demystify the whole funeral process."
I am happy just browsing.