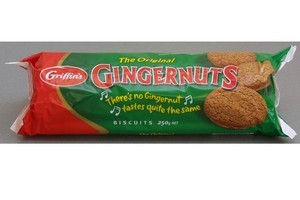 Maybe it's because I don't have milk in my tea but the furore surrounding the potential sale of the Crafar dairy farms to 'Chinese interests' last year left me cold.
However, the news that "Asian strategic buyers" are eyeing up biscuit manufacturer Griffin's has me worried.
True, Griffin's has been owned by Pacific Equity Partners (PEP) since 2006 - but PEP is an Australian firm, we share a cultural heritage. They understand the Gingernut.
Shouldn't the Overseas Investment Office do something to ensure the ongoing dunkability of the Griffin's Gingernut if the company falls into Asian hands? There's nothing worse than a too-soft Gingernut breaking off in your tea.
Griffin's, however, has experienced the reverse problem with its KiwiSaver scheme. Like a growing list of corporates who launched their own 'bolt-on' KiwiSaver schemes in 2007, Griffin's has shut down the option - it was just too hard.
As well as Griffin's two other firms, Turners & Growers and Allied Farmers, have canned their KiwiSaver schemes, casting their (very few) members out into the retail wilderness. Chemical firm, Hexion, is also understood to be close to shutting down its KiwiSaver scheme.
According to the most recent reports, Griffin's had accrued about $1.2 million in its KiwiSaver scheme, Turners & Growers $1.6 million, Allied Farmers close to $40,000.
A few corporate KiwiSaver schemes remain - Ecolab, Douglas Pharmaceuticals, Tait Electronics, Stevenson Group, Ravensdown, and Foodstuffs - but all have miniscule balances.
KiwiSaver has probably accelerated the trend for employers to disengage from the retirement funding business. No new significant corporate schemes have been launched for years; many of the generous ones, like NZ Post, have closed to new members, referring on to KiwiSaver.
Other employers are also splitting retirement fund options with KiwiSaver. For example, where an employer may have run a '5+5' scheme (5 per cent from employee, 5 per cent from employer), the deal could switch to 3+3 combined with a 2+2 KiwiSaver option.
While companies may find it more convenient, and cheaper, to outsource retirement saving duties to KiwiSaver, they're also dismissing one of the traditional benefits of corporate-sponsored superannuation - to retain employee loyalty.
But why should any corporate demand our loyalty these days anyway?
Goodbye Gingernuts, I just dunked an Arnott's shortbread in my tea.