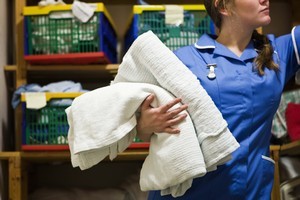 According to the Linen Update, the DHB spends about $1.6 million each year, or about $30,000 each week, on laundry.
This wasn't a boast, the Update was published to remind all staff to keep towel supply under close observation.
Times are tough, only two towels per patient.
So this, I thought, is how Budgets are balanced: efficiency notes posted in the remote corridors of government-funded agencies.
It might work, some people respond well to official nagging.
My guess, however, is that no-one reads the Linen Update and towels will get distributed as needed, which is how hospitals should operate.
Even so, the government is forever trying to squeeze efficiencies out of the health budget, trying to impose accounting certainties on the messy business of sickness.
Only yesterday, for example, Health Minster Tony Ryall, "approved an extra $800,000 over two years to help nurses better match the needs of their patients with the staff and resources available".
That sounded encouraging, even though I had no idea what Ryall was talking about.
The rest of the press release doesn't help that much either - something to do with implementing a "Care Capacity Demand Management (CCDM)" programme through the hospital system.
"Bay of Plenty DHB says an electronic patient acuity tool in the [CCDM] programme tells them at any one time how sick each patient is and how much nursing care that patient requires," Ryall says.
After spending the last few days drifting through various hospital wards, that seems to me a wildly optimistic statement.
The places are pinging constantly with electronic early warning systems that, as one ICU nurse told me, the staff quickly learn to block out so they get on with their jobs efficiently.
Maybe the $800,000 CCDM program is a bargain but you could clean a hell of a lot of towels with that money too.