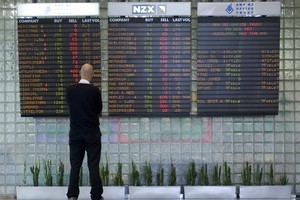 The impending merger of the Australian Stock Exchange with its Singapore equivalent has highlighted once again, as if it needed to, the global insignificance of our own tiny bourse.
Indeed, the headline number of 161 securities listed on the main NZX board flatters the reality - some fund managers have described the New Zealand stock market to me in somewhat disparaging terms as consisting of 'Fletcher building and a phone company'.
That's not fair, of course, there are a range of interesting companies on the NZX that investors appear to trade them now and then for profit (or loss).
But it is true that the NZX company list does not reflect an accurate picture of New Zealand business, most of which is held in private hands and traded behind closed doors.
That's why you constantly hear fund managers batting on about how we need to list SOEs and other companies important to the NZ economy - the ones that produce milk, butter, yoghurt and milk etc - on the NZX.
Until that happens the daily NZX market updates - the ones they flick through on TV news to ease the transition between the car accidents and sports - won't serve as any meaningful indicator of the state of the wider economy.
And, according this New York Times opinion piece, the same is also becoming true of the US stockmarkets, the standard-bearers for participatory capitalism.
Prompted by news of another upcoming mega-merger (between the New York Stock Exchange and the Deutsche Börse), the report's author, Felix Salmon, points out that the US listed market has been in decline for over a decade.
He says the number of companies listed on the major US stock exchanges has shrunk from a high of 7,000 in 1997 to only 4,000 today. Even if you discount for the fact the 1997 figure was inflated by the many illusory firms conjured up by the tech boom (remember that?), something's going on.
Salmon reckons that it's not just the number of US listed firms declining but also the diversity of market opportunities open to your average investors (or your 'mums and dads' as they are known in NZ) that is on the slide.
"Only the biggest and oldest companies are happy being listed on public markets today," he says. "As a result, the stock market as a whole increasingly fails to reflect the vibrancy and heterogeneity of the broader economy. To invest in younger, smaller companies, you increasingly need to be a member of the ultra-rich elite."
Maybe New Zealand is a world leader after all.