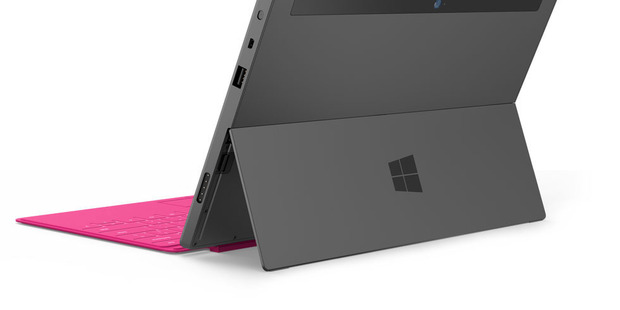 As predicted, Microsoft have launched what they've branded the surface tablet at an event in Hollywood. The tablet runs Windows 8, has a 10.6" display and a full-sized USB 2.0 port (which is potentially good news for any windows compatible USB accessories). The tablet is housed in what looks to be a durable magnesium casing. Ina particularly clever touch, the tablet also includes a case whose screen protecting lid folds down to reveal a multi-touch keyboard case or what Microsoft are branding the "touch cover".
Integrated Keyboard Cover
The 3 mm Touch Cover is a clever and intriguing development that could potentially be a game changer for tablet deigns. Because it makes use of pressure-sensitive tech, Microsoft say it enables users to type faster than they normally would using an on-screen keyboard. The Touch cover will also be available in a selection of colours and clicks into the Surface tablet using a magnetic connector.
An optional 5 mm-thin Type Cover will also be made available featuring moving keys for a more traditional laptop typing experience.
New Alloy Technologies
Whilst there is still a significant amount of hype flying around just after the announcement, it is clear that Microsoft are leveraging several new manufacturing technologies in a bid to differentiate themselves from the rest of the tablet pack. Perhaps the most significant new technology embraced by the Surface Tablet is what Microsoft are calling VaporMg (pronounced Vapor-Mag), which appears to be a process that allows alloy parts to be molded as thin as .65 mm (which is thinner than a credit card), to create thin and lighter tablet designs that are not flimsy or have flex.
Usability
According to Microsoft's press release "Surface is designed to seamlessly transition between consumption and creation, without compromise." and to this end, it appears that Touch Cover technology has been complimented with an Integrated kick-stand so users can position the Surface for tasks such as watching video, making Skype calls using the Surface Tablets HD front (or rear) facing video cameras. The kickstand can also fold into the back of the Surface tablet when not needed, allowing it to be used in a more traditional tablet/laptop configuration. The kickstand is also under a millimetre thick.
Microsoft will be launching two versions of the Surface tablet: one featuring an ARM processor and running Windows 8 RT, and the other packing an Intel Ivy Bridge processor featuring Windows 8 Pro. Surface for Windows RT will be released in the US markets when Windows 8 launches, and the Windows 8 Pro model is expected to follow the Windows 8 launch within 3 months.

Verdict
It's hard to conclusively give the Surface Tablet the big tick until it launches but it does have several key things going for it. Firstly it'll be running Windows, so existing apps on desktop or laptop PCs will be able to be migrated across, allowing users to tap into an already massive pool of windows apps.
With a version of Office also being bundled, users will also be able to take their office out with them, and thanks to the touch cover, using a productivity app such as office or Outlook mightn't be an exercise in frustration.
Secondly the addition of a full sized USB 2.0 port also means that the many accessories already compatible with Windows should in theory work with the tablet, meaning there is already a massive pool of hardware awaiting the Surface tablets launch. Last (but by no means least), Windows 8 might be a frustrating experience when used with a traditional PC, but as the consumer preview edition demonstrated, it works brilliantly on a touch screen and could deliver a fairly robust user experience when it launches.
Key facts are however still missing, such as the cost of the Surface Tablet and its likely availability outside the USA. One thing is certain however, the tablet game has just begun to heat up in earnest, and Windows has truly made the leap beyond the PC.
Key Specifications
Surface (with Armprocessor)
RRP$ TBA
OS: Windows RT
Weight: 676g x 9.3mm deep
Display: 10.6" ClearType HD Display
Battery: 31.5 W-h
Connectivity: microSD, USB 2.0, Micro HD Video, 2x2 MIMO antennae
Bundled Apps: Office '15' Apps, Touch Cover, Type Cover
Storage: 32 or 64Gb
Surface for Windows 8 Pro
RRP$ TBA
OS: Windows 8 Pro
Weight: 903g x 13.5mm deep
Display: 10.6" ClearType Full HD Display
Battery: 42 W-h
Connectivity: microSDXC, USB 3.0, Mini DisplayPort Video, 2x2 MIMO antennae
Bundled Accessories: Touch Cover, Type Cover, Pen with Palm Block
Storage: 64 or 128 GB