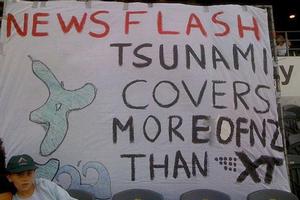 An embarrassed Telecom has been forced to provide a competitor's SIM cards to customers after faults with its much-hyped XT digital network, and emergency services are in talks over whether to stick with the company.
Many organisations are negotiating with Telecom after four network failures since December which have cost $15 million in customer compensation.
Canterbury District Health Board said yesterday that key clinical staff had been given 2degrees SIM cards by Telecom to use with their XT mobile phones, as back-up in case the network goes down again, or were moved to Telecom's old CDMA network.
The DHB's corporate services general manager, Murray Dickson, said the health board was concerned with XT's reliability and was pressing Telecom to get it fixed.
The DHB's primary emergency response was put on a pager system and was unaffected by any of the outages, he said.
2degrees spokeswoman Bryonny Hilless said her company was not aware of the move by Telecom.
"But it's good to see Telecom is providing their customers with a reliable network."
Meanwhile, Telecom this week began transferring clinical hospital staff with the Hutt Valley DHB to its old network.
All other staff would be moved as soon as possible, said the health board's acting chief executive, Michael Hundleby.
He said he had not been contacted by Telecom until last Friday.
"We're very disappointed that Telecom didn't contact us until very, very recently about how they could assist us."
Critical clinical staff - who wait to be contacted by mobile phone in an emergency - needed a reliable network for patient safety, Mr Hundleby said.
Staff at Blenheim's Wairau Hospital have moved to pagers and the Hawkes Bay DHB has switched to Telecom's old network.
The Otago and Southland DHB is reviewing its contract with Telecom. It has 2000 phone contracts with the company, with 400 on the XT network.
Wellington's Capital & Coast DHB chief executive, Ken Whelan, told a board meeting this week the board was looking at the possibility of switching networks, and he hoped Telecom would not charge for it.
Police media adviser Grant Ogilvie said the outages had been the subject of discussion "particularly around what can be done to mitigate the risks of any such outages". But he would not reveal contractual arrangements.
Police had about 600 mobile handsets and 60 mobile data cards on the XT network but he could not give a breakdown of how many devices were affected by the outages. Radio was the police's primary method of operational communication and that was unaffected by the outages.
At Fonterra, 878 staff are on XT and 40 have been affected by the outages.
A company spokeswoman said it was holding off switching anyone to a new network until a review was completed.
Fonterra has also postponed 3000 planned moves to XT, including 1500 staff who are with Vodafone.
Telecom Gen-i spokeswoman Karmela Salisbury said the company was working with all clients to find a solution. She said business clients would not pay anything if they wanted to break their contracts.
EXIT XT
Canterbury DHB
Key staff put on 2degrees SIM cards or moved to old Telecom network.
Hutt Valley DHB
Clinical hospital staff moved to old Telecom network.
Hawkes Bay DHB
Staff move to old Telecom network.
Otago and Southland DHB
Reviewing 400 XT contracts.
Police
600 mobiles and 60 data cards - no indication of problems.
Fonterra
Postponed 3000 planned moves to XT, including 1500 on Vodafone.