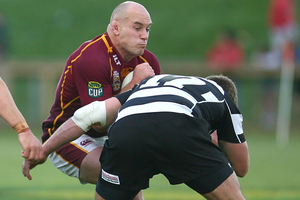 Unwanted by the Highlanders, or anyone else this Super Rugby season, Jason Rutledge is in the unusual position of preparing to play his former teammates for the Hurricanes this weekend.
Southland hooker Rutledge reported for Hurricanes duty this morning (Mon) after an emergency call-up from coach Mark Hammett, who needed cover following Dane Coles' ankle sprain and Matu Matu'u's shoulder injury in the victory over the Crusaders.
Rutledge, 35, told media in Wellington he was pleased to be involved, although wearing the Hurricanes training kit was unusual.
"It's weird enough standing here in a Hurricanes training jersey,'' he said. "So yeah I guess it would be pretty strange [to play Highlanders].''
Rutledge played five seasons with the Highlanders and said he would be uncomfortable revealing too many of his former team's secrets.
"There's been a lot of personnel changes at the Highlanders so it's hard for me to say too much, but I'd feel uncomfortable to be honest saying too much,'' he said.
"But it's a team I've played almost 60 games for so I don't think I'd feel right. At least I'll know a lot [if I get on] and it was quite interesting sitting in the planning meeting today listening to how they perceive the Highlanders and how best to attack them.''
Rutledge, a plumber, had been working full-time before his call-up, but had been training with Southland. He had not been picked up by a Super Rugby side or wider training group.
"The Southland boys have been training pretty hard back home. I may be a little off the pace, but I can't imagine I'll be playing 80 minutes or anything. If I get out there for any amount of time I'm sure I'll be fit enough.''
Matu'u, who damaged an AC joint, is still a possibility to play in Dunedin on Friday night.
If he fails a fitness test, Hawke's Bay player Ash Dixon will wear the No2 jersey, with Rutledge on the reserves bench.
Hammett, a former hooker, said he had a lot of faith in Rutledge.
"It's great to be able to get Jason,'' Hammett said. "He's a quality character. He's already learned what he needs to and he only got here at 8.30 this morning. He's experienced, he's been around a long time. He's not the new boy.''
Coles could be sidelined for two to four weeks, Hammett said.
- APNZ