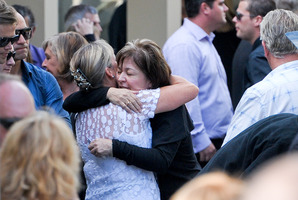 Cyndy McDonald said goodbye to her "beautiful boy" yesterday. But he wasn't the only one on her mind.
Hundreds gathered in Meadowbank yesterday afternoon to farewell self-employed Auckland builder Cameron McDonald, who died when he was shot in the head while hunting in the south Wairarapa bush eight days ago.
Police were still investigating the circumstances behind the 29-year-old's death, but had told Cyndy and her husband Ranald the hunter thought to have fired the fatal shot was "totally remorseful".
He was a victim too and she was thinking of him, Cyndy said.
"I pray every night that someone is looking after him and his family. They have to live with this for the rest of their lives. At least we've got these wonderful memories [of Cameron]."
Charges had not been laid, but if they were and the man was found responsible for their son's death, the couple didn't want revenge.
That sentiment was in contrast to an interview she gave to Wellington media a day earlier, which reported her saying firearms licences were too easy to get and someone had to be held accountable.
She said yesterday she had been angry earlier, but her family had helped her see perspective.
"[My other son] Jonathan turned to me and said 'I don't want this man to go to jail, Mum'. We feel the same. We want him to hang up his gun for life and talk to schools and clubs [about what happened]. Just anything so no other family has to go through what we've had to go through."
Their main message to hunters was to identify their target without doubt before firing, Cyndy said.
"I know it must be hard with the adrenalin going, but you've got to do it."
The family planned to campaign on hunting safety in McDonald's name, particularly on how easy it was to get a gun licence, she said.
Ranald told mourners his son's 30th birthday party next month would still go ahead. McDonald booked out a Ponsonby restaurant for 50 people before his death.
"That is still going to go ahead, Cameron, as a tribute to you."
Friends and family remembered McDonald as a city boy who loved the outdoors, always had a tall tale to tell and won people over with his infectious laugh.
But he was also a canny investor who scanned the newspapers for properties that met his minimum 10 per cent return limit and his rental portfolio totalled five when he died.
"We always looked up to Cameron and what he achieved," longtime friend Jamie Horton said.
He was one of many who called McDonald a friend, Horton said. "Cam made friends easily, all the time and with anyone."