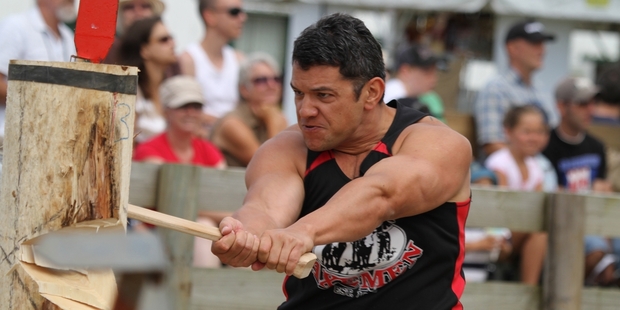 Chopping wood has always been seen as one of the more "manly"' endeavours, but now researchers may be able to prove it.
University of California scientists have discovered the testosterone levels of men spike when chopping wood - and Kiwi axemen have backed the findings.
The study measured testosterone levels of a group of men clearing trees for a horticultural plot. After cutting for just one hour their testosterone levels jumped by about 47 per cent.
The same group registered an average increase of about 30 per cent after playing a competitive soccer match.
The study, published in the journal Evolution & Human Behavior, concluded that the extra spike from chopping wood was due to man's evolutionary desire to provide for his family.
Competitive axeman Campbell Hastie, who is also secretary of the Northland Axeman's Association, said the research sounded right.
He said the biggest difference between wood chopping and soccer was the perceived danger factor.
"Try to think of another sport where you can go wild with a six-pound razor blade," said Mr Hastie.
New Zealand has a long history of champion axemen.
The late David Bolstad dominated the professional Timbersport series in the United States in the 2000s, winning five titles between 2001 and 2008. Fellow Kiwi Jason Wynyard also won multiple titles, including last year's Timbersport World Championship.
The president of the New Zealand Axeman's Association, Chris Lord, said the amount of energy and effort required in the sport, combined with increased testosterone levels, caused some competitors to get wound up.
"There's certainly a bit of aggression in the ring after an event."
Mr Lord said he felt most "manly" during preparation for the shows, "getting out into the bush or forest, felling the trees ...".
"There is a social bond that occurs between a group of men sweating side by side in honest toil with a common purpose," said Mr Lord.
While axemen overwhelmingly agreed with the study's findings, soccer players weren't so sure.
Former All White Harry Ngata said he had never felt as though his masculinity was lacking during his playing career.
"I have chopped a fair bit of wood in my time, I enjoy it," said Mr Ngata. But soccer lacking masculinity "has never crossed my mind".