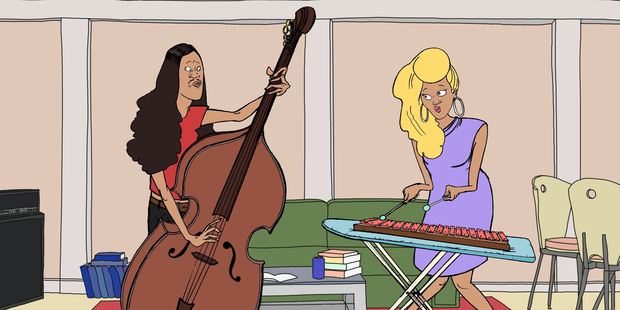 Cheeky new animated series Hook Ups follows wannabe stars Kowhai and Monty as they try to break into the music industry.
The series is written by Jessica Hansell (perhaps better known as musician and rapper Coco Solid), who also voices the character of Kowhai.
Originally a comic strip that appeared in short-lived weekly street press music magazine Volume, it has now been made into 10 three-minute long episodes, which will be broadcast on nzherald.co.nz/hookupstv from 4pm today.
It is set in Aroha Bridge, which resembles Mangere Bridge where Hansell grew up. She wanted the suburb to be like a micro-society where the siblings have to overcome the creative, social and political problems that the world (and their whanau) throws at them.
"Kowhai and Monty I think are two sides of myself, the two sides of anybody creative I guess. There's a cynical laid-back introvert who doesn't care about what anyone thinks and the frustrated intense extrovert who cares about what everyone thinks."
Other characters include the siblings' cousin and number one fan, Ira, actress Madeleine Sami is the voice of their hippie mum, and Mr Showbusiness, Frankie Stevens, is their macho, ex-army dad.
Hansell, who is currently in Korea on an artist's residency, says seeing the cartoon evolve from comic strip to moving animated characters was mind-blowing.
"It's always weird to see something go from the wishful theatre of your mind to an actual moving, existing reality. There is so much visual freedom in cartoons and you can make anyone or anything come to life."
Using a purpose-built iPhone app, viewers can collaborate with their friends to make the soundtrack for the next week's episode.
- TimeOut