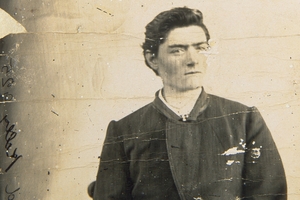 A folk hero to many Australians, Ned Kelly was in fact a "psychopathic criminal misfit", no better than the mass murderers Julian Knight and Martin Bryant, a ceremony honouring three of his victims heard this week.
Before the final shoot-out in 1880 in which Kelly was captured, he and his gang killed three police officers, Sergeant Michael Kennedy and Constables Michael Scanlan and Thomas Lonigan. They were buried in Mansfield, in northeastern Victoria, where their graves were rededicated on Thursday after being restored with public funds.
More than 130 years on, the "cultural adoration" of Australia's most famous outlaw irks modern-day police officers, as well as the trio's descendants, some of whom attended the ceremony. Leo Kennedy, Michael's great-grandson, called him "a murderer and a bully", adding: "The effect of his murders still linger because of those who ... [regard him] as an icon."
The officers, who were hunting for Kelly's gang, were ambushed and killed in 1878 at a camp they had set up at Stringybark Creek.
Kennedy, who was wounded, tried to hide in the bush, but was pursued by Kelly, who shot him dead and then stole his watch and other possessions.
Victoria Police Chief Commissioner Ken Lay said the officers - who were "murdered trying to protect their state" - suffered another injustice in death. "They became pawns in the long-running historical conjecture about the meaning of Ned Kelly ... They became nothing more than footnotes to the lives and excesses of those who killed them."
In the popular imagination, Kelly was a Robin Hood-style figure who upheld the rights of poor Irish settlers oppressed by British colonial authorities.
But to Police Association Victoria secretary Greg Davies he was "a psychopathic criminal misfit who left a trail of destruction and misery in his wake". In a reference to the phrase "as bold as Ned Kelly", which has entered the language, Davies said the outlaw was "no more brave than Julian Knight or Martin Bryant".
Knight carried out the Hoddle St massacre in Melbourne in 1987, which left seven people dead, while Bryant killed 35 people at Port Arthur, in Tasmania, in 1996. "I only hope that in another 100 years we don't have twisted minds trying to lionise Knight and Bryant," said Davies.
Lonigan's tombstone reflects the police view of Kelly, stating that he was "murdered by armed criminals".
His great-great-granddaughter, Deborah Tunstall, said the rededication of the graves had finally brought justice for the three.
Kelly was buried in country Victoria earlier this year, beside the unmarked grave of his mother, Ellen. His remains had been uncovered during an archaeological dig in the grounds of Melbourne's Pentridge Prison.