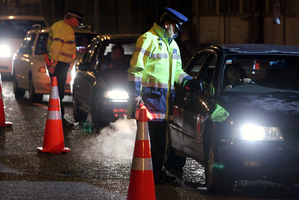 Three years have now passed since Steven Joyce, Transport Minister at the time, said the Government would review New Zealand's blood-alcohol limit for driving after two years of further research. We are still waiting.
If the current minister, Gerry Brownlee, needs convincing to review the Government's 2010 decision to leave the limit at 80mg of alcohol per litre of blood, he ought to have been at a select committee of Parliament last Wednesday. He would have heard Police Superintendent Carey Griffiths, manager of road policing, say that after consuming 13 beers in two hours he was still under the legal limit.
It should be added that the superintendent was taking part in a study and his is by no means the first such exercise that shows how generous the law remains. The Herald on Sunday has published similar tests in its Two Drinks Max campaign for a more sensible limit.
As Griffiths said, "There is no way you would ever drive [safely]. It was an extraordinarily large amount of alcohol to be under the limit."
The Transport Minister was not there to hear it but his National colleague Mark Mitchell was. Mitchell, a former policeman, mentioned that he had once tested himself after drinking four bourbon and cokes and found he was under the limit. "I was in no fit state to drive," he said.
If it took the manager of road policing just two hours to prove the absurdity of the law, what exactly was it going to take the Transport Minister two years to find out, three years ago?
It was something to do with the number of injuries and deaths caused by people driving with an alcohol level between 50mg and 80mg in a litre of blood, 50mg being the limit the police had recommended, supported by the Herald on Sunday, Alcohol Healthwatch, the Brain Injury Trust and local bodies. The Government listened instead to the Automobile Association, which wanted to find out whether most people causing injury or death by drink-driving were well over the 80mg limit and a lower limit might not make much difference. The findings are expected by the end of the year.
If they accord with the result of similar studies overseas, according to Police Assistant Commissioner Dave Cliff, they will show a 50mg limit would have saved 10-25 deaths and hundreds of injuries. If they do not accord with those studies it will odd.
Australia has a 50mg limit and its guidelines tell men they can drink two 330ml cans of beer, and women one can, in the first hour before they exceed the limit. Thereafter, both can have one more can every hour. It seems extraordinary that an 80mg limit can permit so much more than that but Griffiths' experience is backed by statistics.
People with more than 50mg in their blood have a crash rate six times high than sober drivers and people with more than 80mg have a rate 16.5 times higher. Ordinary experience, too, tells most men their condition rapidly deteriorates between two beers and four or five.
Three years ago, the Government sensibly adopted a zero tolerance policy for drivers under-20, but it seemed to think older people were accustomed to the 80mg limit, knew roughly how much they could legally drink, and would be confused by a lowered limit.
Three years on, thanks to disclosures by this newspaper and others, most people now know they can legally drink a much higher quantity than they had thought. It is a much higher quantity than they can drink safely, or should want to drink at any time. The law is irresponsible and it is well past time it was fixed.