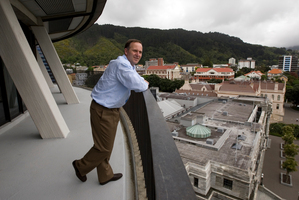 Wellington dying? John Key had reason to regret those words as soon as they were reported this week. But they did turn the country's thoughts to the condition of its capital, a subject too seldom taken seriously.
Nobody worries much about Wellington precisely because it is the capital and capitals cannot die, government will go on, regardless of the city's economic decline.
The fact that the head offices of most New Zealand firms have moved to Auckland since the 1980s, when the Prime Minister headed a finance company in Wellington, has not seriously threatened Wellington's survival. It has simply filled aircraft every day with Aucklanders in business suits taking early-morning flights to the capital.
Capitals, of course, have a captive population. People in most walks of life can live where they desire but anyone seriously pursuing a public service career is soon living in Wellington, like it or not. Their salaries have given the city New Zealand's wealthiest parliamentary electorate, as measured by declared incomes, at least.
Capitals also gain a lion's share of a nation's cultural investment as exemplified by Te Papa and the New Zealand Symphony Orchestra. Auckland's museum, art collection and orchestra claim equal or superior qualities on a fraction of the public funds.
Capitals like to believe they survive on more than government patronage and Wellington is no exception. Even Key acknowledged, in his offending speech to a business audience at Takapuna, that Wellington also has Victoria University and Weta Workshop.
Unfortunately, when Wellington's mayor this week extolled the city's economic diversity in response to the Prime Minister's careless words, she cited Victoria University and Weta. Those are genuine strengths. Victoria has now passed Auckland University in international ranking for academic research and rates as New Zealand's best by that measure. The cinematic special effects industry built around Peter Jackson's productions is possibly the best in the world.
But Wellington senses that it needs something more, and it seems to be feeling somewhat forgotten when it reads of Auckland's "super city" re-organisation or Christchurch's costly earthquake repair programme.
Aucklanders, not yet excited exactly by their unified local government, may find it encouraging that Wellington is discussing a proposal to follow suit. Yet Wellington, already a compact city well served by public transport, does not face the same problems.
The only significant sprawl it has suffered is in the narrow, natural transport corridors of the Hutt Valley and the Kapiti Coast. Auckland planners must envy that, though they should note that enviable rail services have not relieved road congestion.
Wellington seems likely to get an upgraded road from the north into the Hutt Valley at last, and an elevated bypass of the Basin Reserve. Its needs are not neglected.
Its main need is earthquake protection and it will have more interest than other cities in the costs of additional strengthening that might be required for older structures as a result of Christchurch. But can it expect similar Government support? Almost certainly.
Wellington has a great deal going for it. The central city is more lively than Auckland's, the shopping is better, the waterfront transformation is further advanced and it has a splendid stadium. More important, Wellington is a stimulating place to work. It is a government town and can be glad of it.