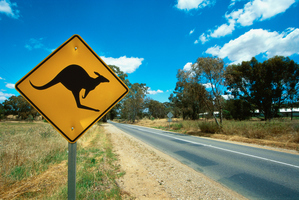 Australian authorities don't seem terribly clear about how many New Zealanders have settled in the sunburned country. A 2009 estimate on the website of the Immigration Museum said 521,000; an update in March by the Australian Department of Foreign Affairs suggested the figure was "more than 700,000".
It's an understandable disparity since the border is so porous now and the flight not much longer than an Auckland commmute. The distinction between short-term visitors and long-term residents can get a little blurry when it's so easy to move back and forth.
What is certain is that there are plenty of us over there. New Zealanders are the second largest immigrant group after the Brits, who - albeit reluctantly - got a head-start when the First Fleet dropped anchor in Botany Bay. Now, one New Zealander in nine lives across the Ditch, and Australia is the destination of choice for almost 90 per cent of Kiwis who settle abroad.
As a report in our Insight pages today makes clear, many of them still regard this country as home, but they don't have plans to come back any time soon. And that's a problem for this Government.
John Key made much during the 2008 election campaign of the number of New Zealanders emigrating to Australia, calling it "a vote of no confidence" in the Labour-led Government. He's conspicuously silent on the matter now, even though the average annual outflow has been higher on his watch than at any time during the years of the Clark administration.
Full of enthusiasm, the newly elected Key established a taskforce chaired by Don Brash (before he was Act leader) to come up with a plan to achieve pay parity with Australia by 2025. It was always an unrealistic aim - Australia's relative prosperity is built on its massive mineral wealth - and it should have surprised no one that Key rejected its more extreme recommendations, since they would have amounted to electoral sucide in 2011.
But if the one-way westward traffic was a problem in 2008, it is an even bigger one now and Key has no one left to blame.
Australia has always exerted a strong allure to Kiwis - we were heading there in large numbers by the 1860s - and even if its economy slows, that attraction will remain. The Government's current response focuses on economic planning that simply redistributes existing spending. But it must develop bold policies that will make for sustained growth if it wants to stop Kiwis from flying away.