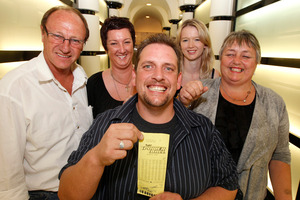 The arithmetic is dizzying. If you were lucky enough to be holding a cheque for $26,598,265 and you just dumped it in your everyday savings account, which offers 3 per cent per annum, it would earn you a cool $800,000 a year.
You'd have to pay tax on that, of course, so you'd have a mere $534,625 to come and go on. That's a bit over $10K a week in the hand, if you reckoned yourself as working a 40-hour week, although one assumes that working a 40-hour week would become an alien concept within a reasonably short time.
But if, say, you were working the early shift as a checkout operator at a grocery store in Te Kauwhata, you might be inclined to tell the boss that he'll need to increase your hourly rate to $258, because you've been offered another job at $257 doing nothing at all. All the while, of course, that $26 million will be sitting in the bank.
This is the situation a man called Trevor faces. And it's not all as good as it sounds.
He has suddenly become very popular. So, after shortening his name to Trev - perhaps as a first step towards making himself inconspicuous - he's disappeared to have some time to think things over.
Trev's no fool: he is clever enough to wonder whether the propositions flooding in, including those from ladies apparently swooning with passion, are entirely sincere. So taking time to consider his options is a smart move.
But while he's in hiding, he could pass the time doing some reading: Mark Twain's 1893 story The £1,000,000 Bank Note, about a man whose paper wealth was so high that no one expected him to pay for anything, would be a good place to start. His wealth so dazzles those of us whose Lotto tickets are crumpled in the rubbish that perhaps he would just need to hold up the Herald front page with his picture on it and he would be treated like royalty, without ever having to put his hand in his pocket.
Good luck to Trev, we say. Let him ignore all those people with their hands out. He can just contemplate the truth of Woody Allen's famous observation that wealth is better than poverty, if only for financial reasons.