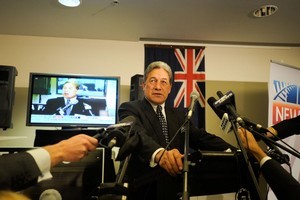 In the end it was closer than National would have liked. The focus of interest on the night was the same as it had been for much of the campaign, not on who would lead the next Government but how things would look on the fringes. Would Act survive? Would Peter Dunne's one-man band be able to continue playing? And would NZ First revive?
The answers to those questions quickly became clear: yes, just; yes, comfortably; and you bet. But, as the count remorselessly mounted, it also became apparent that these were the only areas in which voters had surprises up their sleeves.
National's share of the all-important party vote (a shade over 48 per cent) was not enough for it to make history and become the first party in the MMP era to govern alone, but it needs only one support vote for a majority. With the support of Act, United Future and the three Maori Party members it was comfortably home.
So Phil Goff's stoic, never-say-die campaign came to nothing. It was a catastrophic night for Labour and Goff's hint that he will stand down was bowing to the inevitable.
The bitterest irony for the Labour leader is that he would have known his strident opposition to National's plans for a partial sell-off of four state-owned energy companies and the national airline had a lot of support. But that issue alone was never going to generate enough political capital for Goff.
Making it harder was the fact the the resurgent NZ First leader Winston Peters took part-ownership - even majority ownership - of the issue, and John Key's off-the-cuff assurance that National would "just pass a law" to ensure that large parcels of shares did not go offshore.
In any case, if the issue of asset sales was highly charged, it was plainly not enough. As television pundit John Tamihere remarked, 75 per cent of people were against asset sales, but two thirds of those voted for the salesman. Voters were far more motivated by their household economy than economic nationalism. At a time of global financial turmoil and deep economic problems at home, they were never going to be adventurous enough to hand the helm over to a new captain.
If National considerably consolidated its position as the party of Government - its overall share of the vote was up by the same margin as Labour's was down - the big winner of the night was Winston Peters. His poll ratings had been steadily rising through the last month and he was the tub-thumping demagogue of old as he held forth on the supposed contents of the Teapot Tape. Yet even his most fervid supporters could not have predicted that he would surge past the 5 per cent threshhold with such ease.
By contrast, Act's single-seat victory in Epsom was not enough to bring its party leader into Parliament - an anomalous state of affairs that underline the fact that the brand is exhausted and its influence insignificant. Don Brash had no choice but to resign.
But the Nats would be wrong to take this election result as an unqualified mandate. They need to see it as a bald challenge. The people are looking for continuity of leadership, but they are far from giving their assent to the market-driven policies that have made us one of the most unequal societies in the OECD. As Key and his team begin a second term, they need to accept that more than half the country's voters have expressed their disapproval. They should beware of further betraying the values that made this country great and can do so again.