49 Church Street, Mangere Bridge
SIZE:
Land 2842sq m, house 200sq m (approx).
PRICE INDICATION:
Buyer interest expected over $1.5 million. Expressions of interest close November 14.
INSPECT:
Phone for viewing times.
SCHOOL ZONES:
Waterlea Public School, Mangere Bridge School, Royal Oak Intermediate and Onehunga High School.
CONTACT:
Colleen Strachan, Unlimited Potential, ph 021 283 6194.
FEATURES:
Heritage-listed character family home on huge, north-facing level site in the heart of Mangere Bridge, within 15 minutes' drive to CBD.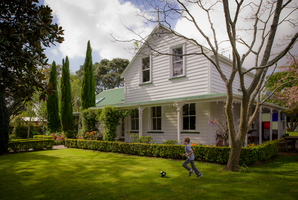 The pretty waterside suburb of Mangere Bridge used to catch Paul Prince's eye whenever he'd head off to the airport for frequent overseas business trips.
It really began to interest him in 2003 when he spent a day there shooting a music video with his film production company, The Sweet Shop. He and partner Kim Baker had been house hunting all over Auckland. When they went for a drive around Mangere Bridge to check it out, they parked outside Barrow House in Church Rd, immediately fell in love with it but dismissed owning such a beautiful home in Auckland as wishful thinking.
Six months later, the house came up for auction and they snapped it up as the perfect place to raise their young family.
"We wanted a rural-type environment that was also an easy commute to Paul's work in Eden Terrace," says Kim.
The couple had lived on Scotland Island in Sydney's Northern Beaches before moving to Auckland in 2002, and wanted to replicate that lifestyle of feeling close to nature.
As well as being a great spot for watching migratory birds, including godwits, Mangere Bridge has a beautiful 14km walking track around its northwest-facing peninsula, which starts at the old Mangere Bridge and ends at the Otuataua Stonefields.
Now heritage listed, Barrow House was originally a single-storey cottage built by Sir John Logan Campbell in Parnell in 1841 and had a second, two-storey section added to it when it was moved to Church Rd in the 1860s.
The flat, northeast-facing 2842sq m property is named after the Barrow family, who owned it for 100 years until the middle of last century.
When Kim and Paul bought the house, the garden, which includes magnificent mature trees including a magnolia grandiflora, oaks, and three Norfolk pines, was so overgrown that weeds obscured its lines of formal box hedging. The house also needed some serious TLC but Kim and Paul realised it had great bones.
"After we moved in we realised how magnificent the property was. We fell more and more in love with it and decided to restore it to its full glory," says Paul.
After doing some initial cosmetic work to make it liveable, the couple undertook a full- scale renovation in 2009 which included two new bathrooms, a library, music room, loft conversion and new laundry. Previous owners had invested in a large farmhouse-style kitchen at the eastern end of the house, complete with an Aga oven.
French doors on the east, north and west sides of the house open out on to a large level lawn with a tennis court at the southwestern end of the property.
The ground level includes a nook next to the kitchen which captures the morning sun, an open-plan dining room leading into a large formal living room that adjoins the library and a spacious music room which looks out to Mangere Mountain beyond the back garden.
A bathroom and laundry next to the back entrance are also on this level.
Up a narrow flight of stairs are three bedrooms including the master, a large family bathroom and a loft which is an excellent play space for Kim and Paul's two children, Ollie, 9, and Georgia, 11.
Behind the house are two garden sheds, a single garage and plenty of off-street parking.
Paul says shifting his family from the home they all love will be a big wrench but they are excited about plans to move to Wanaka.