96A Harbour View Rd, Pt Chevalier
SIZE:
Land approx half-share 744sq m, house 266sq m.
PRICE INDICATION:
Interest is expected above CV $1.71 million. Auction November 7 (unless sold prior).
INSPECT:
Phone for viewing times.
SCHOOL ZONES:
Point Chevalier School, Pasadena Intermediate, Western Springs College.
CONTACT:
Andre Bodde and George Passmore, Barfoot & Thompson Ponsonby, ph 376 3039 or 021 662 873 (Andre) or 021 595 586 (George).
FEATURES:
Rendered concrete home on Pt Chev beach with immediate sea views, garden gate opening directly on to the beachfront promenade and entertaining decks off two levels. *Plus off-street parking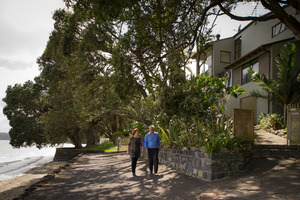 The fact Maggie Barry's son christened their home "Lap-Lap" when he was a toddler is a good indicator of just how close it is to Pt Chev beach. Fourteen-year-old Joe came up with the moniker when he was 2, listening to waves gently lapping against the stone-walled beach promenade just below the property.
"It's a fabulous sound," says National MP Maggie. "The soundtrack of this house is the sound of water and of people having a good time, laughing with friends at the beach," she says, looking out front windows at kite-surfers sluicing across the waves.
This property and beach are very special to her. But she says it'll be exciting to find somewhere just as special in her North Shore electorate, where she wants to live to represent her constituents effectively.
She bought the roughcast concrete home beside Harbour View Reserve around the turn of the millennium, wowed by its beachfront site where Pt Chevalier Sailing Club used to be.
"It's the most relaxing spot. It's the sort of place that no matter how busy you've been you just come home and exhale ... 'aahhh'. The house is very easy to live in and feels a bit like a stylish bach. It's got lots of storage and gets all-day sun, including the last of the evening sun."
Its proximity to the resanded shore here is rare, she explains, because it's one of only four properties sitting pretty much on the beach while others sit on the ridge atop a bank. Maggie enjoys windsurfing and it's easy to grab water-sports gear from the basement storage and nip out the garden gate opening directly on to the beach promenade.
The three-storey mid-90s home was built to accommodate protected pohutukawa fronting the land. "I love looking out through the trees to the water. To me that's the great Kiwi view."
Sounding every bit like the former host of successive TV gardening shows, Maggie explains she keeps the pohutukawa trees' more minor "epidural" growth trimmed to maintain the view shaft.
She was happy this, her first coastal garden, was a manageable size given she was taking it on as the busy mother of an active 2-year-old. "There's garden down below and I also have lots of pots. When you're busy you literally don't have the time for a big garden."
She says the home was a private and "bullet-proof" place to bring a toddler into; with under-floor heating warming the living area's terracotta tiles, easily wiped down if anything was spilled. As a youngster Joe went to kindergarten and daycare locally and adored Coyle Park just a couple of minutes' walk away. When work took Maggie and Joe to Wellington a couple of years after moving here she rented it out.
These days Joe boards at King's College during the week, enjoying this beachfront setting at weekends with Maggie and her partner, lawyer Grant Kerr.
The home is one house back from the street, set down a drive with off-street parking and turning space fronting its internal-access double garage. Maggie repainted the exterior in a soft bluey-grey - reminiscent of the underside of a pohutukawa leaf - which she's also used selectively inside.
The middle floor's living area has a guest toilet nearby, a gas fire and big windows to amp up magnificent sea and sunset views.
Living steps up to a dining area and kitchen with rimu cabinetry, flowing to a side deck with a covered pergola.
It's a convivial house for entertaining, be it long, languid lunches, friends nipping over for a drink and a swim, New Year's Eve parties or quintessentially Kiwi Christmas mornings kicked off with an early-morning dip.
The master suite upstairs has a sense of retreat, underlined by a beguiling view from the en suite spa-bath. Its bedroom has a walk-in wardrobe, concertina windows and a shuttered internal window, adorned with a planter window-box, looking down on the living area.
Downstairs has three bedrooms - two opening to the lower deck with outdoor shower - plus a family bathroom with spa-bath and an in-cupboard laundry. The deck-side two bedrooms are set up as Joe's den and Maggie's office, with a surplus bedroom wardrobe devoted to her library of gardening books.
The main garden is just up from the beach. Once, when Maggie was tending it, a gentleman wandered over to say "nice house, lady" and mention his parents had conceived him onsite when the boating club stood there.