129 Cornwallis Rd, Cornwallis.
SIZE:
Land 3248sq m, house 330sq m (approx).
PRICE INDICATION:
Interest expected above $900,000. 2011 CV $1 million. Expressions of interest close September 20 at 5pm (unless sold prior).
INSPECT:
Sat/Sun 11-11.45am.
SCHOOL ZONES:
Laingholm Primary, Glen Eden Intermediate, Green Bay High.
CONTACT:
Paul Raynes, Unlimited Potential, ph 361 6487 or 021 922 982.
FEATURES:
Two-storey home on fenced property with harbour view and large, flat lawn. Self-contained accommodation downstairs.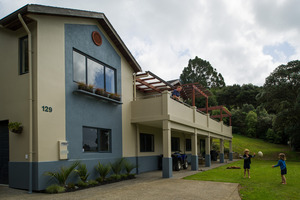 As a keen hunter and fisherman, Pete Jackson had his previous property at Huia well set up for his boat, dog kennels, smokehouse and chiller. The only problem was that the house was too small for his family.
So, about five years ago, his wife, Stacey, began looking for a home. She discovered this property at Cornwallis. "I saw it advertised and came along and thought, 'Wow, this is a bit of all right'," says Stacey.
Besides being bigger than their previous two-storey home, this property's harbour views and a large, flat lawn out front also appealed. There was plenty of room for all the hunting and fishing gear that Pete uses on TV3's ITM Fishing Show.
Facing east, the house has views of Manukau Harbour and Cornwallis Wharf from the upstairs kitchen, living area and bedrooms - and the deck. The kitchen's large window frames that outlook perfectly.
As Stacey says, "With that view out there I've never enjoyed crumbing schnitzel or peeling potatoes so much in my life.
And the view is always changing; it's always different."
Warmed by a woodburner, the open-plan living and dining area flows out to a deck that runs along the front of the house. At the northern end it wraps around the house and is covered, providing a sheltered outdoor dining area.
At the other end of the house the master bedroom opens to the deck and has a walk-through wardrobe to a semi-en suite. On this level, hardwood floors are a feature, and there are two more bedrooms, including one beside the stairs that could work well as an office.
The ground floor has an internal-access garage big enough for four cars at the southern end, while the northern end is self-contained and can be closed off from the rest of the house, making it ideal for extended family or guests. This part of the house has its own kitchen, laundry, bathroom and bedroom, with the lounge set up as a home theatre.
This space opens to a sheltered patio and the lawn. A brazier, fashioned from an old washing machine drum, keeps family and friends warm into the night.
"It's great out here with the barbecue going and we have the home theatre on playing music videos," says Pete. "The boys will get their mates over for a game of football on the lawn and we'll have all the parents over as well for a barbecue."
Though Pete and Stacey have done little to the house other than maintain it, they have improved the surrounding grounds. They had the stone wall entrance built and installed an electric gate. They have also fully fenced the property.
Pete has planted palms along the drive, as well as fruit trees and a hedge at the front of the property. Citrus trees behind the carport provide plenty of fruit.
To augment the two 25,000-litre rainwater tanks, the couple had a water bore put in that provides all the water they need. It's handy when Pete puts a long water slide down the bank beside the house for the kids.
Although Pete will have to relocate his gear - and some of it may stay if the new owners want it - the family is now looking for a lifestyle property, somewhere it can run a few sheep and maybe a horse.