65 GRANGE RD, MT EDEN
SIZE:
Land 878sq m, house 266sq m (includes garage).
PRICE INDICATION:
CV $1.45 million. Auction August 15.
INSPECT:
Sat/Sun/Wed 1-1.30pm.
SCHOOL ZONES:
Mt Eden Normal Primary, Auckland Grammar, Epsom Girls' Grammar.
CONTACT:
Steven Glucina, ph 021 888 455 or Dee McDade, ph 021 448 832, LJ Hooker.
FEATURES:
Classic kauri villa in double-Grammar zone with large north- facing garden, double garage and workshop.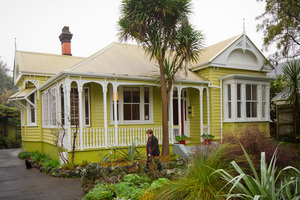 When Mary Nuttall and Russell Fulton flatted in Mt Eden for two years in the late 1970s, they say it was known as a university suburb populated mainly by students, academics and elderly people.
Its proximity and easy bus access to the city and to Auckland University appealed to Mary and Russell, who were studying and working at the university at the time.
So when they looked for a first home to buy together in 1980, they happily restricted their search to Mt Eden and settled on an original kauri villa in Grange Rd that was typical of other heritage-listed houses in the same street.
As well as wanting a house that was on main bus routes and only a section away from the city, their check list included having mains gas - rare at the time - and a north-facing section with good indoor-outdoor access.
Over the past 32 years, they have gradually restored their 1911 house and have modernised elements of it in three main stages that largely involved alterations to the original lean-to at the back of the villa.
When they moved in, the lean-to included a kitchen, bathroom and a large laundry/porch on the northwest side of the house. "The laundry got all of the sun, was as ugly as hell and took up far too much valuable space," says Mary.
Working first with architect Nick Stanish then architect Graham Pitts, Mary and Russell sanctioned plans to move the bathroom and laundry into an original bedroom off the main hall and create a farmhouse-style kitchen and adjoining family room in the lean-to space.
"When Nick explained that a farmhouse kitchen was much more democratic for a family to work and cook in together than a U-shaped one, I thought 'you've got me'," says Mary, adding that the open design has worked well for her, Russell and their son.
The kitchen, family room and a small office at the northeast end of the house look out over a large private back garden. The family room opens on to a deck running along the back of the house and which is wide enough to accommodate outdoor dining and a barbecue. It steps down to a back lawn and vegetable plot, which catches the sun.
The back garden, which takes up the lion's share of the 880sq m site, includes a double garage and concrete block workshop, which Russell has used as a darkroom.
Original rock walls at the back of the section frame large trees including an avocado and feijoa as well as several fruiting banana palms that overhang the deck.
Mary says the section's free-draining, fertile volcanic soil makes it ideal for growing citrus trees as well as flowers and veges.
Inside the house, opening off the original central hallway, are three double bedrooms and two side-by-side modern bathrooms, one of which is accessed through a spacious laundry.
Velux skylights in both bathrooms and the laundry have lightened up these three rooms and incorporating part of the original return front veranda into the master bedroom has opened up this spacious room to light and western sun.
Original features in the house, which has been home to only three families in the past 100 years, include three open fireplaces, matai floors and its gables, which have been rebuilt.
Russell and Mary will cherish memories of wonderful birthdays and large gatherings in this family house - not to mention two of their cats playing ping pong in the hallway.
But after 32 years, the couple says the time is right to downsize and move on.