75 Sussex St, Grey Lynn
SIZE:
Land 250sq m, house 110sq m
PRICE INDICATION:
Renovated properties in this area sell for upwards of $1 million. Auction July 5.
INSPECT:
Sat/Sun 12-12.30pm, Wed 5-5.30pm.
SCHOOL ZONES:
Richmond Rd School, Ponsonby Intermediate, Western Springs College.
CONTACT:
Marty Hall, Ray White Ponsonby, ph 027 450 0168.
FEATURES:
Fully renovated two-bedroom villa in the heart of Ponsonby, with resource consent for studio with roof terrace in back garden.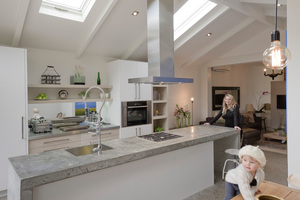 Nick McIntosh didn't have to give up his day job to renovate his Grey Lynn home.
But the Auckland builder did labour after-hours and at weekends for nearly three years to transform his and wife Clare's 1910 villa - with some serious help from their families.
It helped that both their fathers are also builders and that Nick's mother, Paula McIntosh, has her own interior-design business and helped with some furniture when the renovation was finished.
When the couple bought their two-level Sussex St home it was so run-down that Nick put his foot through the rotten kitchen floor - and weatherboards on one side of the house were acting as a retaining wall for the neighbour's yard.
"We'd been looking for a do-up but maybe not quite as much of a do-up," says Nick, adding that "a labour of love" is the best way to describe their renovation project.
Their vision was to transform the house and give it a modern pavilion-style feel while retaining its villa character.
In true villa style, a lean-to had been constructed at the east-facing back of the house to accommodate the old bathroom, laundry, toilet and a small kitchen.
Working with the footprint of the original house and lean-to, the McIntoshes devised a plan that included opening up the downstairs level, bringing more light into it and creating an easy flow out to the small back garden.
Adding about 10sq m to the house by pushing out part of its southern side on the ground level also created space for a large kitchen that forms part of the open-plan living.
"The idea was to devote the whole of the downstairs area to living and entertaining with it flowing out into a courtyard-style garden," says Clare.
In this area, which incorporates the kitchen, dining room and two living spaces, Nick has constructed a high-pitched ceiling with exposed, white-painted beams, rafters and strategically placed skylights.
As a keen cook Clare paid careful attention to details in the bespoke new kitchen that the couple planned together, which was mostly made by a family friend.
"I love cooking, so the kitchen was key and we went all out on its features," says Clare.
They include a dramatic concrete island bench in the centre of the kitchen, which Nick poured in situ, blonded American oak cupboard doors and a slick Italian Barazza hob which Clare tracked down and bought on eBay.
Also on the ground level are a small laundry and separate toilet with elegant, 1950s-style glass wall tiles.
Nick jokes that much of the timber for the renovation was "begged, borrowed and stolen".
Most of the joinery at the front of the house is original, with sourced recycled villa doors and new joinery where appropriate.
Other original features include the kauri floors, which have been blonded, the original chimney that divides the downstairs living spaces and board-and-batten ceilings upstairs.
On this level are two bedrooms at either end of the house, with the main bathroom dividing them. The house may be compact, but careful thought has gone into maximising all of its available space and ensuring there is enough storage - including a secret cupboard that is concealed behind the downstairs wall bookcase.
With a sibling on the way for their 2-year-old daughter Tigerlily, the McIntoshes are keen to move to a bigger house in the same area.