6A The Pines, 75 Owens Rd, Epsom
SIZE:
Land 2.7ha, apartment 190sq m
PRICE INDICATION:
Interest expected above $1.6million. Tender closes June 12 at 4pm.
INSPECT:
Phone for viewing times.
CONTACT:
Paul Studman, Barfoot & Thompson, ph 524 0149 or 021 998 563
FEATURES:
North-facing apartment in block with large grounds and with shared facilities including 20m swimming pool, gym and all-weather tennis court.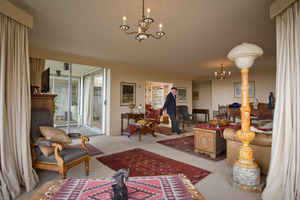 Ponsonby Antiques owner enjoyed ease of apartment living. Graham Hepburn reports.
As you would expect from the owner of Lord Ponsonby Antiques, David Brown's apartment is packed with rare and interesting furniture, rugs, ornaments, pictures and clothes.
Rugs are scattered among a collection of wooden furniture - mainly New Zealand colonial tables, chairs, cabinets and sideboards and some Irish pieces - that features throughout the living areas and bedrooms.
David, who died in February, had a passion for furniture - especially New Zealand colonial furniture - that he turned into a business that became part of the Ponsonby streetscape.
Colonial furniture from his store - on the corner of Ponsonby Rd and Williamson Ave - was in huge demand during the 1980s.
"All the houses in Grey Lynn and Ponsonby were being done up and people were buying the colonial furniture to go with them," says his friend Ross Smith, who ran the store with him. "We were buying furniture from all over the country and refurbishing it and selling it. We had a guy making kauri tables with turned legs and we were selling them as fast as he could make them."
After the supply of New Zealand furniture dried up, the store moved on to Irish pieces and, when they ran out, items from Tibet, Mongolia, Korea and China.
Ross says David would become interested in something such as the watches or jackets that also featured in his shop and would quickly become an expert on them.
"He would get interested in things and dive in head first," says Ross. "One of his friends had a gold Rolex Oyster that David liked the look of and that started up his interest in watches."
In a way it was his interest in watches that brought him to The Pines in 1995.
Ross says that David moved to the apartment building for security after armed thugs broke into his Ranfurly Rd home looking for the keys to the shop safe in which he kept his valuable watches. After that incident, David bought his sixth-storey apartment at The Pines, which has a secure entrance.
The 10-storey concrete tower clad with brick went up in the 1970s because Auckland businessman Selwyn Robinson wanted to protect a site he had planted with native and specimen trees over 30 years.
Previously, Robinson had owned a large villa on the site but couldn't stomach all his hard work going down the drain if the property on the slopes of Mt Eden was carved up after he died, so he built a tower block on it so it could not be subdivided.
While the apartment building has huge grounds and gardens, a swimming pool, a gym and tennis courts, Ross says David kept to himself and probably used only the herb garden. "He was sort of a good cook," says Ross.
Inside, the apartment has a large living room, an adjoining dining room and kitchen, all with views of Auckland city and the harbour. These spaces wrap around and open on to a covered deck. The building has been designed with a curve so that residents of the 40 apartments can enjoy great views without sacrificing privacy.
On the southern and western side of the building are three bedrooms - one that has been set up as an office - and two bathrooms with views to the south and west.
The master has an en suite and walk-in wardrobe that still has some of David's collection of jackets - military and leather - another of his great loves and something he was knowledgeable about.
Lord Ponsonby has been wound up and some of the stock auctioned and Ross says most of the items in the apartment will be auctioned after it is sold.