9 MARAMA STREET, TORBAY
SIZE:
Land 1058sq m, house 430sq m.
PRICE INDICATION:
Buyers over $2.6 million should inspect.
INSPECT:
Sunday 3-3.45pm.
SCHOOL ZONES:
Torbay School, Northcross Intermediate, Long Bay College.
CONTACT:
Jelena Freeman, Premium, ph 916 4397 or 021 65 65 63.
FEATURES:
Architecturally designed two-storey clifftop home on a peaceful street a short stroll from Winstone's Cove in Torbay. The large open-plan living areas downstairs open out to a pool and backyard overlooking the water.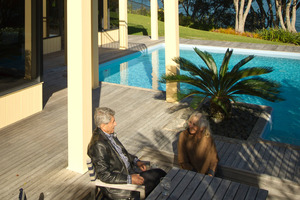 In the late-1980s, Merilyn Kavvas spent a good six months intensively hunting on the North Shore for a newish family home with plenty of room for her growing family.
"I just couldn't find anything that suited us. I was asking for a lot of things, I guess."
So when she found a clifftop property on a quiet crescent road in Torbay with pohutukawa-fringed sea views and a large, almost-new house with pool, decks and a back lawn, Merilyn and her two children ganged up on her husband, Nejat, to talk him into it.
"I had a big sad face," she recalls, "and I said, 'That's it! I'm not looking any more!'."
The house was about twice the budget they'd set themselves, but in the face of such a formidable campaign, Nejat disregarded his bank manager's concerns and they bought it. "You quickly learn when you're married that if you want peace in the house you relent," says Nejat. Almost 23 years later, Nejat says he hasn't regretted the move. While he was operating his popular Eastern Rug Gallery store on Khyber Pass, the house - and the North Shore - provided a welcome retreat at the end of a busy day.
Since retiring, Nejat has found a niche as a glass artist and is in demand to exhibit internationally, and he and Merilyn have enjoyed their relaxed coastal retirement, punctuated by regular overseas trips.
"We've had the most beautiful life here," Nejat says. "Our children grew up here, and it's a lovely quiet street. We've loved the neighbourhood."
The house was designed by Gibbs Harris Architects, with interiors by Timmy Pinfold. Merilyn and Nejat have updated the kitchen and made a few other small changes, but otherwise they say the design and style has stood the test of time, with its open spaces, white walls and doors and airy atmosphere. "The house has got a nice feeling when you walk in," says Merilyn.
On the ground floor, a large lounge, the kitchen, a dining area, and a sunroom take in the views via large windows. The living areas open up to the decks, pool and backyard, plus a sheltered east-facing courtyard. Even the laundry has a sea view. Tucked in behind the living areas are a guest bedroom, Nejat's study (he's an honorary consul-general for his native Turkey), and the enormous garage.
The family's three bedrooms occupy the top floor, opening up to a gallery that doubles as a second lounge, which was handy when the kids became teenagers and needed space to study. All three upstairs bedrooms have sea views.
Now that it's just the two of them living in the large house, Nejat and Merilyn have decided to pursue a city change. With their daughter and three adored grandchildren living in Remuera, Merilyn says they're selling up so they can buy an apartment closer to the family and be involved in the kids' daily lives "before they grow older and don't want anything to do with Nana and Grandad"!
However, Merilyn admits "it will be very hard to leave ... we have such good memories of this house, with friends coming over for barbecues by the sea, and the neighbours coming over for drinks. And it's been a magnet for the kids' friends. But we have to make a move."