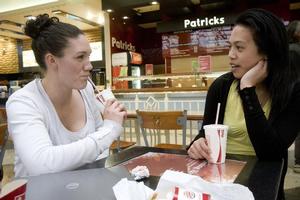 Recession is just another part of growing up for Henderson students Alison Taua and Billie Thomas-McKenzie.
Taua, 18, and Thomas-McKenzie, 21, are in their first year of a three-year AUT course in "spatial design", which can lead to work in either interior design or architecture.
But Thomas-McKenzie has already done a two-year art and design course. Like many others of "Generation Y", she has kept studying until she finds something that will earn her a living.
"I've got mates who've already got a degree ... but changed to something else because they can't get a job in what they have done a degree in," she says.
Taua, who is straight out of high school, opted for spatial design when her application for graphic design was too late. Typically, most of the spatial design students are female. "It's a fact that the population within universities is more women than men," she says.
Neither woman has any paid work.
"Last summer I couldn't find a job, mainly because I didn't exactly try enough," says Taua.
Thomas-McKenzie has done part-time housekeeping but has never had a full-time job. Perhaps for that reason, she's not afraid of the recession.
"I think the recession has taken a toll on people who've had a career for so long and lost it, whereas to young people like us it's part of us having to grow up and get lots of experiences anyway," she says.
In Taua's words: "We just have to work around that now."
Thomas-McKenzie has two children aged 5 and 2 and lives with her partner and his mother "because we can't afford to go elsewhere". She is glad her partner is older and feels it might not have worked out otherwise.
"He already had his career up and running," she says. "I think it's harder for young mums who have younger partners who are still trying to discover themselves."
Taua lives with her parents and says she wouldn't live with a partner if she had the choice.
"I know of 17-year-olds who are flatting. I think they know the troubles that come with living with a partner."
She says sole parenting, in particular, is much more common than it used to be.