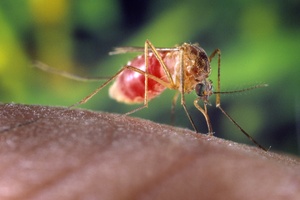 Expect to hear that baleful high hum above your bed more often this summer - a mild winter has meant mosquitoes are likely to be out in force.
The warmest winter on record, combined with plenty of rainfall in many parts of the country, is predicted to have produced a bumper breeding season for mosquitoes as temperatures heat up.
"People will start to notice a few mosquito bites from now onwards, with that late January and February period being when the most bugs are around," said Dr Darren Ward of Landcare Research.
According to the latest climate summary from the National Institute of Water and Atmospheric Research, weather between now and January is likely to be warm and settled, making conditions for pesky bugs ideal.
"In general terms, if you have mild winters and good conditions, bugs like mosquitoes will certainly be more abundant," Dr Ward said. "There are other factors that come into play, but weather is always the big one."
Over the cold months, adult mosquitoes are tucked away, spending their egg stages waiting for warmer spring weather. "In the spring, they come out and start their breeding cycle. When the weather has been warm, the developing larvae will grow quicker and they are more likely to survive."
While mosquito population numbers are not tracked in New Zealand, Dr Ward has noted a pattern of mild winters that led to build-ups.
James Fraher, chief executive of Skin Technology, a New Zealand company that makes Picaridin insect repellents, also expects a bad mosquito season.
"If it stays like this for the remainder of spring, I would imagine that mosquitoes are going to be far worse this year."
New Zealand has 16 species of mosquitoes, some of which have become established in the past century.
The Auckland Regional Public Health Service considers them the most important bloodsucking insects that spread diseases to humans and other warm-blooded animals.
They can transmit diseases such as dengue fever, chikungunya, Ross River fever, yellow fever, malaria, West Nile virus, dog heartworm, Japanese encephalitis and a large number of other diseases.
Dr Ward recommended people clear their properties of water sources - such as water-filled pots, tyres, tins and containers - where mosquitoes laid their eggs.
"Tip them out so there's nowhere for them to breed."
- APNZ