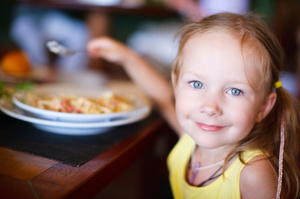 Parents are voting with their feet and choosing restaurants that offer healthier options for their children than the traditional chicken nuggets and chips, as a new survey shows the majority of people want to see improved kids' menus.
Almost three-quarters of people would rather restaurants and cafes offered healthier dishes for children in preference to more vegan/vegetarian and gluten and allergy-free options, or providing nutritional and calorie content on a menu, says the latest American Express dining survey.
The UMR survey of 1000 New Zealanders' eating out habits showed strong support for an improvement in the type of food offered to kids, mirroring an international trend to move away from the traditional chicken nuggets and chips options.
Marisa Bidois, chief executive of the Restaurant Association of New Zealand, said many restaurants were already starting to respond to such demand from parents, and those that did were reaping the rewards.
"Many of our members are already making changes to their children's menu and we expect that as this trend gathers momentum, more restaurants will respond to customer demand," she said.
Linda Outhwaite, president of the Clinical Nutrition Association, said restaurants were becoming more adept at catering for children.
"I think most places now are becoming a bit more aware because a lot of people have food intolerances or allergies so they're more open to change or to provide something if needed, so 'always ask' is my advice and go to restaurants that are happy to accommodate you."
She said restaurants should try to be "more creative" with their options for children.
At Auckland's Wynyard Quarter yesterday, Karen and James Wong, on holiday from Melbourne, were enjoying a meal with their sons Jamieson, 6, and Joshua, 4. They had found it difficult to get away from the fish and chips options for their children during their week-long break.
"I prefer pasta and healthier options," said Karen. "I haven't been able to find much pasta so we've been going to Chinese places for noodles or rice."
Fiona Wylens, with her husband, Terry, and sons Steven, 11, and Timothy, 9, said she would prefer restaurants to provide smaller versions of adult dishes, as well as other "funky" options such as "traffic-light" and "pink-panther" style drinks.
"They [the children] eat everything we eat so if a restaurant only has nuggets and chips or hotdogs we wouldn't bother [going in]."
She said the family tended to choose Indian, Thai or Vietnamese places because the food was healthier and more affordable.
Changing tastes
Main factors influencing choice of restaurant were:
* Food quality 56 per cent
* Affordability 55 per cent
* Quality of service 50 per cent
Sources for restaurant referrals:
* Personal reference 87 per cent
* Online reviews 30 per cent
* Restaurant websites 30 per cent
* Internet offers 26 per cent.
- APNZ