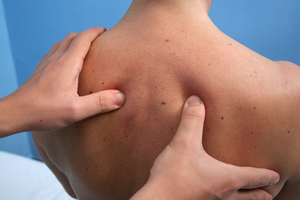 An osteopath facing two dozen sex charges used his job to gain his patients' trust before sexually assaulting them, a jury was told today.
However, Richard James Davis' lawyer said in some cases the women could have "misinterpreted'' the treatment they were being given.
The 53-year-old Katikati man has been charged with 11 counts of unlawful sexual connection and 13 counts of indecent assault in relation to the treatment of 10 women at his Gisborne practice.
The Crown and defence have given their closing submissions to a jury in the High Court at Wellington today.
Davis has denied the charges and said all treatment techniques he used were clinically necessary.
Crown lawyer Steve Manning told the jury some facts in the case, including that patients were naked or near naked, Davis wore no gloves while touching their groin area, there were no chaperones, and the touching was inconsistent with legitimate osteopathic techniques, should reassure the jury the women were telling the truth.
The touching was subtle and ambiguous and used in conjunction with genuine therapeutic techniques, he said.
Davis was ``wearing the cloak'' of osteopathy in order to touch his clients in a sexual manner, he said.
He abused the trust of his clients, some of whom he had treated for a number of years.
``He wouldn't get anywhere near the women in the manner in which he did if they did not trust him.''
All the women came from diverse backgrounds and cultures but all told a similar story of abuse, he said.
``Almost all of them froze, almost all of them felt sick and embarrassed.''
The women gave ``clear and unambiguous'' descriptions of violations including nipples being sucked, bending naked over a treatment bed, and having genitals being inappropriately touched by Davis, Mr Manning said.
Davis' lawyer Tony Snell said some allegations were flatly denied by his client, but in other parts of the Crown's case, there was ``misinterpretation'' about what he was doing.
For the most part, the patients were relying on what they were feeling rather than seeing what was happening, he said.
``There is a complete denial by Mr Davis of any sexual gratification in this case.''
Mr Snell noted the complainants were aged between 25 and 61, of varying ethnicities and with a range of physiques and the allegation of sexual gratification would have more weight if a specific type of person was targeted.
He said the Crown expert osteopath witness Caroline Stone had accepted there were different ways of performing osteopathic treatments. Some osteopaths preferred their clients to be clothed, others did not.
``It doesn't indicate sexual or deviant behaviour,'' Mr Snell said.
Ms Stone also agreed it was not common practice in New Zealand to ask if patients wanted a chaperone present during pelvic floor work, Mr Snell said.
Some witnesses agreed under cross examination they had given verbal consent for Davis to work in their groin area, including an internal exam, Mr Snell said.
Mr Snell's submissions were continuing and Justice David Collins would sum up the case for the jury of five men and seven women later today.
apnz rq cr
- APNZ