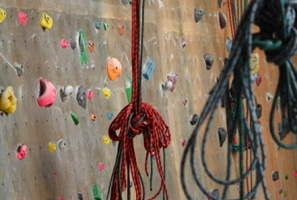 New adventure tourism safety guidelines have been introduced for canyoning, caving and indoor rock-climbing operators following a review of safety in the sector.
But operators will not have to adopt the voluntary guidelines unless they elect to undergo an external safety audit, which will not be compulsory until new regulations are fully implemented by the end of next year.
The guidelines were developed by the Tourism Industry Association after the Government launched a review of risk management and safety in the outdoor and adventure tourism sector in 2009.
The review followed a series of high-profile outdoor adventure tragedies which sparked calls for greater safety in the industry.
Currently, adventure tourism operators have to comply with health and safety requirements, but until now there have been no national guidelines for canyoning, caving and indoor rock-climbing.
Tourism Industry Association advocacy manager Geoff Ensor said the new guidelines would be essential if operators elected to undergo an external safety audit.
Safety audits remain voluntary, but will become compulsory under regulations passed in 2011 which require require operators to be audited and registered by November next year.
Mr Ensor said any investigation into an accident may look at how well an operator followed the guidelines.
The guidelines were developed in consultation with adventure activity experts, with funding and support from the Ministry of Business, Innovation and Employment.
"These guidelines draw on the knowledge of recognised canyoning, caving and indoor rock-climbing experts, and reflect international standards, but they also take account of the impacts New Zealand's unique environment can have on each activity," Mr Ensor said.
"It's critical that 'adventure' remains in adventure tourism, but we all have a responsibility to ensure that these experiences are being delivered within a strong safety framework."
Mr Ensor said New Zealand was a world-leader in adventure tourism and the development of the standards was being noted internationally.
The association was still developing guidelines for other activities including heli-skiing, quad biking, abseiling, high wires, ziplines, and bridge and canyon swinging.
Those guidelines are due to be finalised this year.
Outdoors New Zealand chief executive Garth Dawson said the guidelines were an important step forward for adventure and outdoor safety.
"We encourage all operators to strive for continual improvement in all aspects of their activities."
- APNZ