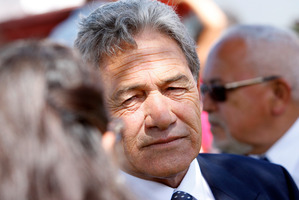 The trust that works with Maori health groups says New Zealand First leader Winston Peters is "scaremongering'' with his comments that public money is being wasted on traditional healing practices.
Mr Peters today criticised the Ministry of Health for spending almost $2 million a year on the agencies.
Radio New Zealand reported the ministry has contracts with 15 Rongoa Maori agencies, which use traditional healing techniques such as massage and herbal remedies.
It has spent about $7.6 million funding the services over the past four years.
Mr Peters told Radio NZ there had been no analysis of how well the healing techniques work.
"You can't get any read-outs of results or any analysis of what is being done and how it's being done and the success rate. It's about $130 for each client contact when we've got not idea what's going on."
He said nobody was being held accountable for how the money was being spent.
"There's no place for a system which has no analysis as to whether it's successful, whether it's appropriate, what its likely success rate will be, whether changes should be made. On the face of it, it appears to be a serious waste of taxpayers' money."
Te Kahui Rongoa Trust, an umbrella group for the agencies, said Mr Peters had not contacted it about his concerns.
Chairman Albert Stewart said Mr Peters comments were "totally untrue".
"There is enough information (at the ministry) to confirm the amount of people who have been treated," he said.
"Clearly it's scaremongering on Winston's behalf hoping it's something to improve his popularity, he's found another reason in Maoridom to bash people around."
Mr Stewart said Maori health was in an "abysmal" state.
"Rongoa Maori is about providing a service that has not been there in the normal health service."
He said Mr Peters was welcome to visit the trust to discuss his comments with them.
- APNZ