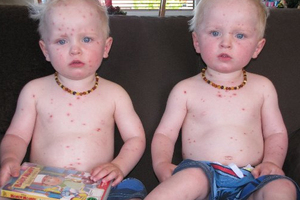 It was a less than festive Christmas for some in the Upper Clutha yesterday, as many younger family members itched and scratched their way through the celebrations thanks to a recent outbreak of chicken pox in the area.
The flare-up of the highly contagious disease has affected dozens of children in schools and preschools in Wanaka and surrounding towns.
Albert Town couple Cory and Rhonda Johnson are relieved their 22-month-old twin boys Blake and Mitchell are past the worst of their chicken pox in time for Christmas day, but their little bodies still bear the spotty signs of their bout with the disease, which they caught from big brother Luke, 4.
Mr and Mrs Johnson were aware, anecdotally, of a huge spike in chicken pox cases in the past couple of months, both at their children's preschool and other local early childhood and primary school providers.
"I've heard that it's bad, and obviously we know other parents with kids with it," Mrs Johnson, a charge nurse at Dunstan Hospital, said.
The couple had isolated their three boys during their contagious phase so as to avoid spreading the infection any further.
Albert Town's Riverside Educare manager/owner Dot Macfie said at least 60 per cent of the 100 children enrolled at the early childhood centre had been struck down with chicken pox recently.
"It seemed to start from the schools because it was the kids who had older brothers and sisters, they were the first ones that came down with it," she said.
"Then it went through the preschool room and now it's hitting the younger ones."
In the three years since the centre had opened, there had been only the odd case of chicken pox each year, until now.
Wanaka Medical Centre practice nurse Stephanie Still confirmed there had been an outbreak of chicken pox in the Upper Clutha, with cases coming to the centre's attention in the past two months. However, she was unable to provide any figures and said a lot of people would not visit their doctor with chicken pox.
"We do seem to have seen more than we have seen in the past when there has been an outbreak," she said.
Patients being treated for the disease were mostly under age 10.
There is a vaccine for chicken pox, but it is not on the National Immunisation Register. Parents can have their children immunised at a cost of $72 for each of the two recommended doses.
Chicken pox facts:
• Chicken pox is spread by contact by coughing, sneezing and direct contact with weeping blisters.
• It affects all ages, but predominantly young children as they have not been exposed to it before and are often in groups together.
• The only preventive measures are isolation or vaccine.
• Early signs are fever and spots with a blister on top of each spot.
• It takes 13-17 days from exposure to chicken pox for the sickness to develop.
• Patients are contagious for about five days before the spots appear and five days afterwards.
• Treat with rest and plenty of fluids, Pamol and baths with Pinetarsol oil may ease the symptoms.