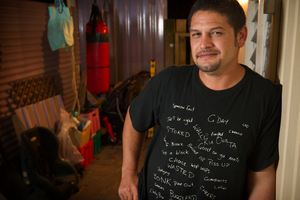 Eight out of 10 New Zealanders gamble. They take a punt on the horses, buy Lotto tickets or tip money into pokie machines. Most enjoy the risk, and happily say goodbye to the money they lose.
But thousands find it hard to stop, frittering away millions of dollars, often creating misery for those closest to them. Some break the law to feed their habit.
Thirty-year-old Hamish Brown spent over a decade hooked on gambling, an addiction he says made him bitter, sneaky and pig-headed.
After help and counselling from the Problem Gambling Foundation he quit his ruinous routine.
Here, in his own words, is his story:
At 17 (I will be 31 this year) I put my first $10 in a pokie machine in a pub.
Being on an apprentice wage of $6.25 per hour the chance of winning more than I earned in a day was a big attraction.
As the weeks went by, I would increase my bets.
There were not many pokie machines where I lived. I found out my dad was sick in Auckland and I moved to be closer to him. In reality I moved to an area where there would be machines everywhere.
After a year I found myself spending my wages in one night, keeping $20 to $30 out of $600.
As I am a hard worker, my worklife blossomed and so did my gambling. Then the lies to my family also blossomed. I would walk in with a set amount in my head - "$200 is all you can spend". I would get a beer, have a smoke, then put the winnings back in thinking: "You still haven't spent all your $200 yet, play the $300 you just won."
I knew I had a problem and would try and stop myself going down the same track as the week before. But next thing I'm in there.
I [began indulging] in drugs and having been up all hours of the night twitching my fingers, I would go and gamble in the 24-hour bars in the city until I had no more money.
Drugs and gambling soon ruled my life. I could barely do my job, my sleep-deprived body and mind were twisted, thinking how was I going to be able to win it back on my next pay.
Then I stopped using drugs - cold turkey, two weeks on a couch. My family helped, so I moved out of Auckland and stopped playing pokies. I trained at the gym, worked long hours, felt fit as a fiddle and full of life. I was 22 and wanted to go overseas. I found work in the United States for three months, which gave me a new lease on life.
Coming home I had a plan. I wanted to return overseas and started to go for it. Then the debts I had came back to haunt me and next thing I knew I found myself in front of a machine thinking "I have control of this". Within four weeks I was back to my old ways ... wages in machines, tell some lies, get some money.
My plans changed from going overseas to starting a company. Within 12 months my profit increased, my passion for work paid off, gambling was on the back burner. Then the old cycle kicked in but instead of hundreds of dollars I was sitting on thousands. The casino would give me a better chance to win thousands. Soon I only ever played there.
I would leave home at 5am, work till midday then gamble all afternoon and evening, sipping on a few beers while my workload piled up.
My accounts started going two to four months overdue. Then an old but new sense kicked in - "time to hide from reality again".
The machines would take my focus away from my cyclone of problems and helped in blaming other people when things weren't paid and jobs weren't done.
My partner at the time talked with the gambling helpline and confronted me, trying to help. I felt better to release my problems to her, but knew I was not a 100 per cent into it. I could twist and turn like a snake when I wanted to. Not long after, our relationship ended.
Over the next few months I gambled heaps and worked as little as possible. I met someone new and within a couple of months she was pregnant. This was great news! A time, I thought, to get myself sorted. There was a career I had always wanted to pursue so I started training very hard, but still gambled.
As my training became less enthusiastic, I ended up having another go at working for myself. Things were going well. I was gambling little bits during the day and lying to workers and lying to my partner. The same cycle came back.
I started to slip on payments, jobs were not completed. I was getting work to cover old debts, lies, lies, lies, lies, then the hiding in front of the pokies to escape while my home life was hanging by a thread.
I woke one morning and no one was home. A letter was sitting on the table addressed to me - my family had left. I have never felt so sick. My partner had thought I was having an affair with someone, and I confessed "I have a gambling problem".
There was relief for her but a lot for us to work on. We approached the Problem Gambling Foundation and were set up with a counsellor. We began to go along but I knew how to let people hear what they wanted. I said I was fine. I noticed such a huge improvement with kids and my partner.
Then it happened again. I went to the casino and put in a few hundred dollars, while feeling so utterly disgusting. I was petrified to leave knowing that I had to go home and face my partner and kids. I finally started making my way home. I rang the gambling helpline. I had hit rock bottom for the second time, but this felt more intense. All that went through my mind was that I had let these pokies take control of my life. I was looking to crash my ute on the motorway and end it all.
I spoke with the helpline while sitting on the side of the road. I felt this was it for me. I got home, walked in the front-door and told my partner I had gambled. I broke down, packed my bags and left.
What could I teach my kids? I knew nothing but how to lie and treat people badly, caring only about myself and showing no respect for people who loved me. These were some of the toughest weeks of my life. I started picking up the pieces, got back in touch with my counsellor and started talking with him again.
It has been over a year since I gambled. I have declared bankruptcy and we lost a lot. On the flipside, my family has never been so happy. The change in our kids' behaviour is so loving towards each other and me while my partner and I have started to have a real loving relationship.
Without the support of our friends and family I would have never beaten gambling on pokies. It nurtured my thoughts and actions for 13 years. It made me bitter, sneaky, pig-headed, and I made a career out of lying.
If people suspect anyone of this vicious cycle all their love and support are needed. Ultimately, it must be the gambler who makes the decision to leave that life behind.
Playing the odds
21,127 pokie machines in New Zealand
$5.2 million lost to gambling every day, or $1.9 billion a year
83% of the population gambled at some time last year, even if it was simply buying a lottery ticket
10,000 New Zealanders engaged in illegal activities because of gambling
74,000 suffer from inferior mental health because of gambling
20% of regular pokie players are likely to have a gambling problem
Source: Problem Gambling Foundation