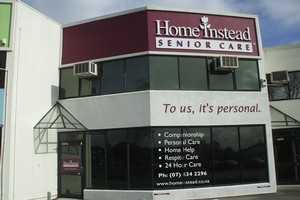 The owners of Hamilton Senior Care, which enables elderly and infirm people to continue living at home, are selling the business as a going concern through Nick Stevens of Link Business Broking in Ellerslie.
The business is a franchised operation of US-based Home Instead Senior Care, which claims to be "the world's largest and most successful" elder care franchise business.
Stevens says the mission of Home Instead Senior Care New Zealand is to provide elderly clients "with outstanding, personalised in-home care that helps maintain their quality of life, independence and dignity".
"This is definitely a growing sector with lots of opportunities for expansion," he says.
"It is an excellent business financially, generating $1,125,960 in revenue for the 2011 year, and it is on track to meet a target of $1.2 million for this year."
The asking price for Hamilton Senior Care is $450,000, made of up of tangible assets of $14,000 and intangible assets of $436,000.
Home Instead was started in the US by Paul and Lori Hogan, who were motivated by their family's experience in caring for Paul's grandmother for 12 years.
This convinced them of the need for non-medical-based care and companionship services to help seniors live independently at home.
"Many seniors face stress and anguish by being removed from their homes and being required to move to residential care environments to which many don't want to go," Stevens says.
The Hogans formed Home Instead in 1994 and started providing non-medical senior care services in Omaha, Nebraska.
They subsequently registered Home Instead Senior Care as a service mark.
The concept took off and a year later, in 1995, the company began franchising. By last year, Home Instead had more than 900 offices in 15 countries around the world.
The New Zealand operation started in 2005 when Neil and Wendy Farnworth bought the rights to operate the Home Instead Senior Care system in New Zealand.
During the past five years they have established a pilot office in Hamilton and opened franchised offices throughout the country, pioneering the concept of companionship and non-medical home care for the elderly in New Zealand.
In 2008, the Farnsworths were awarded the NZ Franchise Association's Franchise of the Year Award under the lifestyle category.
"They have since sold the master franchise to an existing franchisee, and now want to sell the Hamilton franchise too," Stevens says.
"What they do is put trained care workers into the homes of mainly elderly people who are often suffering from Alzheimer's and dementia.
"Their clients wish to remain at home but need care and companionship to maintain a quality of life, dignity and independence.
"Some of the services offered by Home Instead include light household cleaning duties, personal care, providing incidental transport, giving medical reminders, companionship and 24/7 live-in care."
These services are delivered in the home of the client, supported by an integrated clinical support network, says Stevens.
It is normally the type of care and support that a primary family member would undertake and in a lot of instances, the services are provided in co-operation with the primary family carer.
"The stress on a working family who are raising their own children can be very daunting, especially when they have to start looking after their aged parents on top of managing their own lives," Stevens says.
He says that ideally, prospective purchasers of the Hamilton franchise will have previous sales experience and good English language communication skills.
"Public speaking is required for the delivery to workshops, government departments, medical personnel and other groups.
"Other personal assets would be a sound business background, experience in staff employment and management, and in employment.
"However, previous health-care sector experience is not necessary."
Stevens says the Hamilton franchisee can expect to operate the business for about 40 hours a week. Their role will be to find, employ, and train care workers, and find clients to place the care workers with.
"There is a real need for elder care services in New Zealand, and enormous potential for development of the business with the 85 and older population expected to more than triple between 2011 and 2026.
"Today there are over 540,000 seniors, 65 years of age and over who make up a significant potential client base for Home Instead Senior Care services in New Zealand and this number is projected to exceed one million by 2035."
The sale of the Hamilton franchise includes access to the group's systems and processes - including well-documented operations and organisation manuals - caregiver training, on-line training, on-going training from the US franchisor and use of BOSS proprietary software which is custom-built for Home Instead to manage most aspects of the business operation.