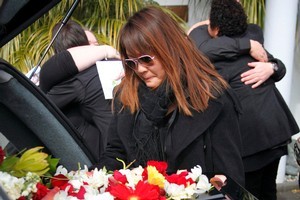 The family of the Auckland man who died on a Jetstar flight say he had a pre-existing heart condition.
Robert Rippingale died on a flight from Singapore last week with his girlfriend, Vanessa Preechakul, as he was coming back for his parents' combined 50th birthday party.
The 31-year-old's father, David, said his son was born with a hole in his heart but said his family were waiting for the results of the autopsy before they made up their minds about how he died.
"The police told us he choked on the food on his flight, but he had a heart problem so we think it might have been that. He was born with a hole in his heart and had that fixed when he was 6, and he's had the valves done a couple of times since then.
"We're just waiting for the answers now."
About an hour and a half after the plane took off, Robert had died.
Mr Rippingale said his family had been looking forward to his and his wife's combined 50th birthday parties last week when police officers told them Robert had died on the flight.
"They didn't take it very well, as you can imagine. It was a huge shock," Mr Rippingale said.
Instead of a having a birthday party on Saturday the couple buried their eldest son.
Mr Rippingale said he had really been looking forward to seeing Robert again and getting friends and family together for their birthday celebrations.
Tomorrow Mr Rippingale and his other son will fly to Singapore with Miss Preechakul to get Robert's affairs in order.
Robert Rippingale moved to Singapore, where he met Miss Preechakul, three and a half years ago to work at a perishable goods shipping company.