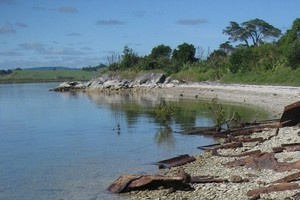 Upper Whangarei Harbour has been closed for gathering shellfish until July after high levels of norovirus - a virus linked to the deaths of two Whangarei rest home patients - were found.
The norovirus outbreak may have affected 288 people in six Northland rest homes since starting at Jane Mander Retirement Village late last month.
Results from tests by Northland Regional Council have come back to show high levels of norovirus in the Whangarei wastewater and upper harbour during the storm of May 2.
As a result, Northland medical officer of health Jonathan Jarman has extended the normal 28-day shellfish closure of the harbour to two months.
The closure extends to gathering all shellfish in the upper harbour from a line drawn between the Onerahi Yacht Club and Portland until July 2.
"High levels of norovirus are to be expected in sewage during community-wide outbreaks of the disease," Dr Jarman said.
"Unfortunately there have been problems with sewage overflows into the Whangarei Harbour during high rainfall events.
"Normally we advise people not to collect shellfish for at least 28 days from the time of contamination with human sewage.
"Based on the high levels of norovirus illness in our community at present, I would extend that advice to two months following sewage contamination of shellfish.
"To be on the safe side, I recommend that people do not collect shellfish ... until July 2."
The upper harbour has been closed for shellfish gathering for up to a month during each of the estimated 50 harbour sewage spills in the past eight years.
All but one of the rest homes have managed to control their outbreaks of the gastrointestinal illness.
- APN