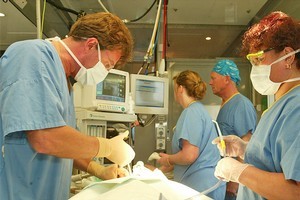 A spiralling shortage of doctors has sparked a warning of future "severe safety issues" in New Zealand hospitals.
Association of Salaried Medical Specialists director Ian Powell said the flow of New Zealand doctors overseas and difficulty of replacing them had put many hospitals in crisis.
Patients could suffer from increasing medical mistakes and treatment delays without urgent action, he said.
"The situation is already unsustainable. We'll have severe safety issues if this continues.
"New Zealand is losing too many of the younger doctors we train so well overseas, losing too many of our current public hospital senior doctors overseas and struggling to recruit in a very tight and internationally competitive market.
"Eventually these chinks are going to get so big that the system breaks down."
Health Minister Tony Ryall said health workforce was a longstanding issue both in New Zealand and internationally.
"This government is doing a great deal to address the problem and we are making progress. We are also fortunate that in the past two years we have seen an extra 500 doctors join our public health workforce across many specialties," said Mr Ryall.
Mr Powell's warning comes amid reports of cancer patients been denied chemotherapy due to doctor shortages in the lower North Island.
Last month, Palmerston North's regional cancer treatment centre said it would not administer the treatment to patients with 15 types of the disease.
The decision was due to a shortage of medical oncologists. It has three, but needs five.
That is only the tip of the iceberg in a nationwide shortage of medical professionals, said Mr Powell.
He cites a Wellington oncologist position that has been vacant for a year as a signal of how difficult it is to attract skilled doctors to New Zealand.
"Most public hospitals, both big and small, suffer serious senior doctor shortages in many specialties, not just cancer.
"It's not a workforce that has time to collectively spend on quality improvement. We're in a situation of shortages and even if we filled these shortages it would still not be enough.
"Public hospitals are trapped in a vice-like grip."
Mr Ryall said he was concerned about medical oncology services at Wellington and Palmerston North. "I understand both DHBs and the MOH are working towards a plan to strengthen these vulnerable services by working more tightly together."
Mr Powell said investment should be directed at raising senior doctors' pay to internationally competitive rates and providing them with leadership and professional development opportunities, he said.
"The crisis will significantly deteriorate if something isn't done soon."
But he told the members voted into DHBs around the country last October that maintaining staff numbers would be a key concern in coming years.
He said the Government had invested in increasing numbers of new clinical staff and created training positions.
But DHBs needed to reduce waste in order to invest in frontline staff, he said.