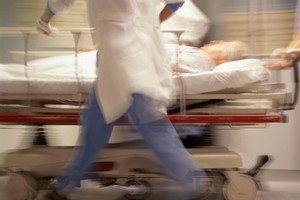 The Cancer Society is concerned for the safety of patients who are being denied chemotherapy because of a shortage of doctors.
Patients of Palmerston North's regional cancer treatment centre are the latest to suffer from a shortage of medical oncologists, which has become an increasingly fragile workforce in a country beset by doctor shortages.
The cancer centre, which serves a large section of the central North Island, is rejecting patients for whom there would be very limited clinical benefits from chemotherapy.
The Mid-Central District Health Board says in a letter to the four other DHBs served by the cancer centre - Taranaki, Whanganui, Hawkes Bay and Tairawhiti - that unless there are clinical trials or "overriding individual circumstances", it will, after "rigorous triaging", reject referrals of patients with 15 types of cancer at various stages of disease.
These include all melanoma, all squamous and basal cell skin carcinomas, and lung, neck and several other cancers which have relapsed or are defined by certain other treatment-related characteristics.
Mid-Central blames a shortage of medical oncologists - it has only three, but needs five in total. It hopes to recruit a fourth soon, but doesn't expect "any improvement in our situation" until mid-year.
Affected patients will be sent back to their referring doctor. Mid-Central says its strategy is preferable to simply putting patients on a waiting list.
Cancer Society chief executive Dalton Kelly praised Mid-Central's "honesty" about the categories of patients it would not now accept, which he said was better than putting people on an endless waiting list, but there were risks.
"If you are a patient with cancer you will want every option open to you. When some of those options, like medical oncology, close, it's got to be a concern and in some cases it could put people at risk.
"We now know the situation and there are things we can do. We have to look at the capacity at the other cancer treatment centres."
Health Minister Tony Ryall confirmed his ministry and MidCentral were seeking spare capacity from other cancer centres.
In the past two years, despite an international oncologist shortage, chemotherapy attendances rose by 25 per cent at public hospitals because of the rising number of cancer cases, extra courses of chemotherapy and new drugs.
"To meet that [rising] demand, we have commissioned the ministry to look at how New Zealand can provide more and faster chemotherapy," Mr Ryall said, "through a smarter use of existing cancer networks."