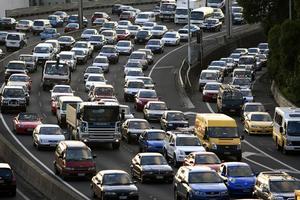 Auckland motorcyclists will gather tomorrow night to plan protest rides against accident compensation levy rises which could add almost $500 to licence fees for large bikes.
The Bikers Rights Organisation expects other groups to join it at the Penrose meeting in outrage at proposals presented for public consultation by the Accident Compensation Corporation, among changes aimed at closing a yawning financial deficit.
Other possible changes acknowledged by the Government include requiring accident victims to pay the first $50 to $100 of their treatment costs as an insurance-style "excess" for each claim against the state-run compensation scheme.
Les Mason, Auckland branch president of the motorcycling organisation, accepted yesterday that the compensation corporation had a case for raising levies but said the Government was obliged to weigh up wider social benefits offered by efficient two-wheeled transport.
He said that if the Government failed to protect the country's 130,000-strong motorcycle fleet from such swingeing levy rises, many riders were likely to register their machines for only the three summer months of each year or abandon them in favour of cars.
Mr Mason said his group would tomorrow discuss protest rides and other ways of venting their "vexation" at MPs.
Auckland University Motorcycle Club president Stephen Dodge said his 650cc Suzuki was up to three times more energy-efficient than the average car, yet he would face a potential annual registration cost of more than $800 if the proposed changes were adopted.
Although the Ministry of Transport says the risk of death or injury for motorcyclists is more than 18 times higher than for car drivers travelling over equal distances, according to its national survey, Mr Dodge said average medical costs were lower.
He pointed to ACC figures which show that 3173 active injury claims by motorcycle riders cost the corporation an average of $19,705 each last year, compared with 8525 claims by car drivers and passengers for an average of $24,426.