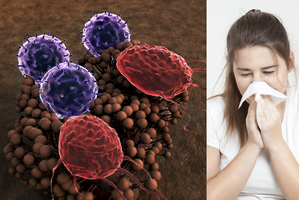 Senior American scientists have been abruptly dismissed from a US Government advisory board on dangerous biological agents, amid growing disquiet within the academic community about laboratory research creating more dangerous forms of flu virus.
Four of the 11 researchers, who were dismissed on Sunday night (local time), have since signed a petition calling for a limit on what laboratory experiments should be done on highly pathogenic strains of flu.
David Relman, of Stanford University, Arturo Casadevall, of Albert Einstein College of Medicine, Michael Imperiale, of the University of Michigan, and Michael Osterholm, of the University of Minnesota, had been long-standing members of the US National Science Advisory Board for Biosecurity (NSABB), which advises the US health department on so-called "dual use" research that could endanger public health.
Read more:
• Scientist's superflu 'puts millions at risk'
They were effectively sacked from their advisory roles by the US National Institutes of Health (NIH), which has funded some of the most contentious research on flu viruses as well as the high-security laboratories that have been involved in recent mishaps over anthrax, smallpox and avian flu. They were given no clear reason for their dismissal
All four scientists have added their names to a petition signed by 17 leading academics, including a Nobel laureate, who believe that recent accidents within some of the most secure laboratories in America have raised alarm bells about the possibility of an accidental release of dangerous viruses that could cause serious outbreaks of disease, if not full-blow pandemics.
"Recent incidents involving smallpox, anthrax and bird flu in some of the top US laboratories remind us of the fallibility of even the most secure laboratories, reinforcing the urgent need for a thorough reassessment of biosafety," their joint statement says.
"An accidental infection with any pathogen is concerning. But accident risks with newly created 'potential pandemic pathogens' raises grave new concerns," it adds.
The scientific establishment in the US has been rocked in recent weeks by revelations that live smallpox was unknowingly put into cold storage at the NIH, that live anthrax was mishandled at the US Centres for Disease Control and Prevention (CDC), and that a dangerous strain of bird flu was accidentally shipped from one US government lab to another.
- UK Independent