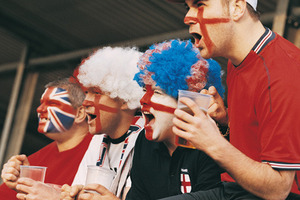 Sports fans who fill up on beer and pies at half time need to exercise for hours to burn off the calories, a health charity has warned.
Experts from the World Cancer Research Fund (WCRF) rated the nutritional value of popular foods sold in and around sporting venues and found many could take their toll on people's health over time.
A 233g steak pie contains 534 calories, 29.7g of fat and 2.3g of salt. Fans would need to run for 47 minutes to burn it off, walk for two hours and nine minutes or garden for almost an hour-and-a-half.
Meanwhile an American hot dog contains 229 calories and 7.4g of fat and requires a 20-minute run, a 56-minute walk or a 37-minute spell in the garden.
A pint of beer has 173 calories and fans would need to run for 15 minutes, walk for 42 minutes or garden for 28 minutes to burn it off.
The calculations were made using the WCRF's new exercise calorie calculator.
Kate Mendoza, head of health information at the WCRF, said: "For many sports fans an afternoon's football or rugby isn't complete without a drink and a pie or burger and we wouldn't want to spoil anyone's enjoyment.
"Instead we're highlighting the small changes to make half-time snacks a little healthier - such as swapping a steak pie for a chicken pie.
"We also know it's sometimes difficult to find healthy options inside sports grounds, so having a healthy, filling lunch before setting out can be a good tactic.
"It would also be great to see sports venues offering a wider range of healthy choices."
- PA