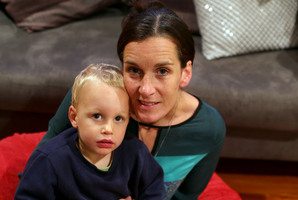 Little Carter Salmons is usually a cheerful toddler.
So when he woke grizzly and lethargic last week his mother Sorrel Davies knew something wasn't right.
Then he had a seizure in his father Hayden Salmons' arms.
By the time an ambulance arrived at their Royal Oak home, Carter, 2, was covered in blisters that appeared around his mouth, hand, feet and legs.
"Suddenly this rash appeared and he had these spots around his mouth, and on his hand, feet and over his legs," Davies said.
He was taken to Starship Hospital and diagnosed as the latest case in a hand, foot and mouth disease outbreak.
Doctors said he had a febrile convulsion, or rigor, because his fever was 38C. Convulsions are not common in hand, foot and mouth.
"Seeing your own child go through that is really quite scary. But we are an extreme case," Davies said
She believed Carter picked up the disease at the Royal Oak Childcare Centre. She also felt there should be more awareness in the community.
"I didn't know a great deal about it, I just knew our daycare had put up signs saying hand, foot and mouth was going around and to be careful."